First, there was the coastal grandmother aesthetic. Now, there's the "antique grandma" manicure – and you can thank Blake Lively for that, who recently delivered a serious lesson in style inspiration with her creative nails.
What Are 'Antique Grandma' Nails?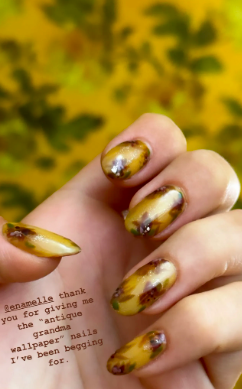 Lively used the term when she shared her fresh mani on her Instagram stories, thanking celebrity nail stylist Elle Gerstein for creating the design: "Thank you for giving me the 'antique grandma wallpaper' nails I've been begging for."
In other words, the nail design, which featured maroon, mustard and green florals evocative of brocade fabrics, was inspired by vintage wallpaper. Seasonal colors: Check. Simple oval shape: Check. Original yet versatile enough to wear everyday vibe: Check.
Wallpaper-inspired nails are having a moment in general. According to PopSugar, two looks dominated the New York Fashion Week runways for Spring/Summer 2023: Minimalist, barely there beiges and retro prints such as pink gingham or vintage rose illustrations.
Interestingly, Lively tagged House of Hackney, a luxury British interior, fashion and lifestyle brand, in her story. It's likely that the manicure was inspired by one of the brand's actual wallpapers. Vogue investigated and believes it's the Aurora wallpaper in Chartreuse, which has a similar color palette and pattern – and would fit perfectly in your grandmother's living room in the 1960s or in the apartment of a stylish millennial with a Pinterest obsession. 
What You Can Learn From Blake Lively's Mani
As Lively demonstrated, the process of choosing a nail color is sort of a case study on self-expression through style and beauty. Perhaps you save photos of manicures that you like on Instagram and bring those to the nail salon. Maybe you look at color options on the spot and intuitively choose one that aligns with your mood. Or you always get the same thing – elegant neutrals or classic red, for example.
Regardless of your own creative process when choosing an outfit, putting makeup on or having fun with your nails, there's a subtle lesson in Lively's "antique grandma" manicure (besides the fact that it looks great): Inspiration can come from unexpected sources.
So, if you want to refine your personal style or refresh your look, don't just turn to social media for inspo. Look at the world at large. Pay attention to nature. Notice art that moves you. Ask yourself what you like about the things that stand out to you – and how it can inform your own creativity with style and beauty.
Beth Jones, the stylist, blogger, and YouTube creator behind B. Jones Style, shared wise words on the topic in a Vox article:
"The key is not just seeing it as something that somebody else can do, but actually thinking, 'How can I interpret that for myself?' Or, 'What could I take from that and bring into my everyday life?'"
Lively nailed this thought process (no pun intended). Whether you're a fan of the "antique grandma" manicure or not, your unique spin on a trend may just be around the corner if you stay open to possibilities.