As I was mindlessly online shopping one day, I added items to a cart I thought I'd never purchase. I was transfixed by something I'd never seen before: a hot pink blazer. A lifelong business goth with a closet full of black slacks and graphic tees, I felt an identity crisis beginning to form. What was suddenly possessing me to look up pink shoes, pink pencil skirts, and pink blouses? Was I becoming Barbie?

It's called Barbiecore. The main driver behind the summer trend is the leaked photos behind the scenes of 'Barbie' a Greta Gerwig vehicle set for release in 2023. And we can't forget a stunning Margot Robbie as Barbie serving looks in roller skates, convertibles, and cowboy hats.

These pictures spurred on something in the hearts and minds of all pink-lovers everywhere – even me – inspiring us to splurge on fuchsia mini dresses and blush-colored Mary Janes. But there's more to Barbiecore than meets the eye.
Barbiecore: Why Now?
Barbiecore came into popularity just as the resurgence of the Y2K trend hit its peak. The return of low-rise jeans and butterfly clips may have triggered a sense of nostalgia for many who remember the days of Polly Pockets and Bratz dolls. Even modern trends like face jewels or graphic eyeliner have made a return.
The urge to return to a simpler time in the face of an overwhelming world is bolstered by Barbie's inclusive message: hot girls can do anything.

While Barbie was originally criticized for being a sex symbol that promoted unrealistic body standards for women, her many careers showed fans that you shouldn't ever feel limited by others' perceptions of you. Barbie's been everything from an astronaut to a paleontologist, a computer scientist, and sometimes, just a hot girl in a Dream House.

In the 1980s, Barbie dolls were released in over 40 national markets with different skin colors and ethnicities, and now, she also comes in a variety of sizes.
On a deeper level, the rise of Barbiecore fashion indicates that no matter your age, gender, sexuality, or orientation, you can be a Barbie girl in a Barbie world – because 'life in plastic is fantastic.'
Channel Your Inner Barbie
Interested in all things pink, but not sure where to start? There are a few ways to go about a Barbiecore lifestyle no matter what walk of life you're from.
Lean Into The Feminine Fantasy
The taping of 'Barbie' may have thrust Barbiecore into the summer 2022 lookbook, but many brands have jumped on board and embraced this aesthetic. Valentino's Fall fashion show was filled with Barbie-like mini dresses and high heels on an all-pink runway and stage. Stars like Anne Hathaway, Ashley Park, and Florence Pugh have all donned this chic collection.

To channel your inner Barbie, learn from Valentino and try out a monochromatic look. Pair a pink dress with a blazer or a pink pair of heels with a skirt and top. My personal favorite ensemble is a wide-leg pant and a bootie, much like Zendaya wore to Valentino's Rome runway show.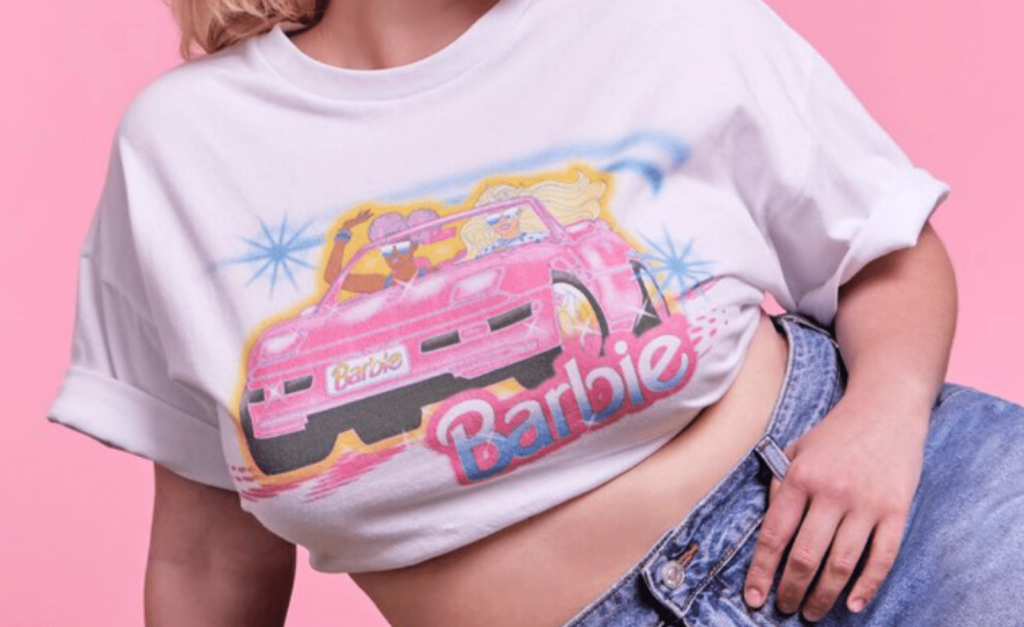 Mattel It To Your Heart
Rather than just being inspired by Barbie, some brands actually chose to collaborate with the Mattel icon. Balmain x Barbie was a pop-up collaboration that featured cotton candy and photobooths, and Forever 21's collection was ideal for the Barbie lover on a budget. And from jean jackets to t-shirts and purses, both brands' items are still classy but a little less sassy.
If Barbie's hyper-feminine elements aren't really for you, don't worry – Barbie girls can also throw on a graphic tee and call it a day. With a light pair of jeans and a pair of white sneakers, you'll make Barbiecore your own without uncomfortable pumps or figure-flaunting frocks.
Barbie On The Beach
If you're not committed to a complete Barbie outfit but want a splash of pink in your wardrobe, try finding an occasion that will warrant a fun clothing item. For instance, get yourself a sports bra and shorts set to make lounging around the house just a little bit cuter.

You can also find a form-fitting and flattering pink swimsuit (with matching sunglasses, of course) for a pool day or beach excursion. Kim Kardashian's most recent SKIMS collection of poolside couture and swimwear is a place to start, as their hot pink bikinis and gold cover ups are eye-catching.