A brand is a brand. Until it is an entire lifestyle. And that's exactly what effing candle co. is.
The woman-owned, LGBTQIA-positive clean candle company is located in Kansas City, Missouri — in a prime location right off of the Main Street drag in midtown. The storefront is seasonally decorated, a welcoming bit of character amidst its surroundings of small local shops and pharmacies. 
"I love having the storefront," admits effing candle co. owner Birdie Hansen. "I finally get to meet some of the lovely people who have been ordering online for the last couple of years. Building a community is a really nice perk of having a space."
The community Birdie has developed is not only eco-friendly but also a charitable force. A percentage of all candle proceeds fund charities — some, in the past, including Planned Parenthood Great Plains, KC Pet Project, Harvesters and more. 
If you're looking to support a great cause, you need a last-minute holiday gift or you're just looking to create a vibe in your space, these are our effing faves, below.
Our Effing Fave Candles This Season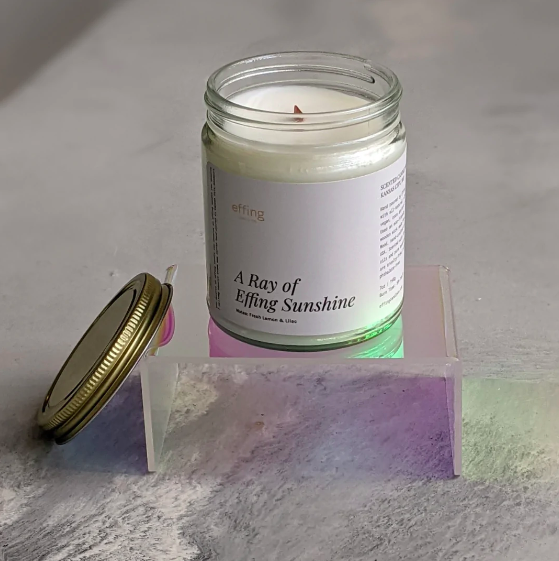 One of our introductions to the effing candle co. family was the light, crisp, wonderful scent of A Ray of Effing Sunshine. With notes of fresh lemon and lilac, this candle is perfect for a clean-smelling environment and hits especially right in the spring and summer months. Burn it at dusk to feel like you are on a vintage swing, surrounded by flowers in a beautiful garden any time of year.
Oh, and take a moment to revel in the hilarity of the name of the candle. It was actually purchased as a gift, in a nod to my cynical personality.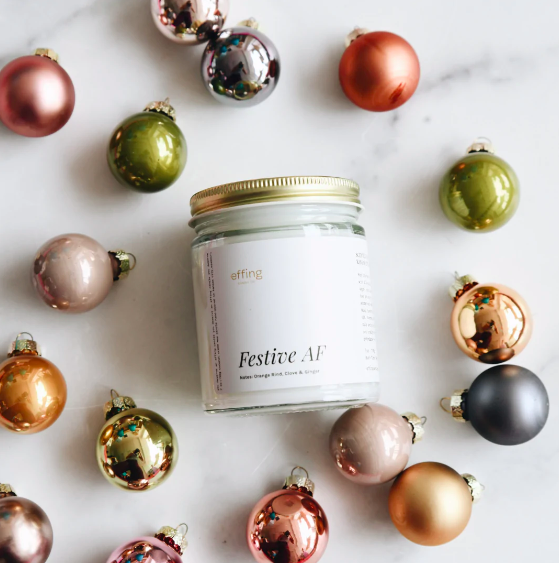 The sweet, decadent scent of holiday food is contained in the Festive AF candle.

Orange rind, clove, and ginger serve as inviting notes that perfectly complement a holiday affair. Sweet and sultry, this particular smell makes me a little bit hungry in all honesty. I burned mine on Halloween and while celebrating Samhain and will continue to burn it throughout the holiday season.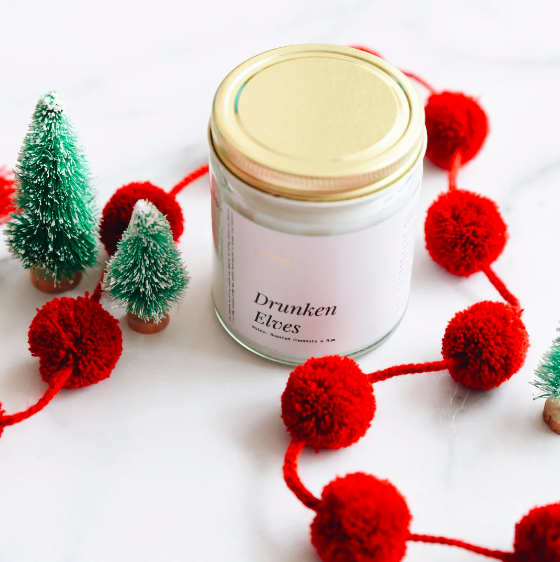 This seasonal scent is an absolute must during the holidays. For those of us who enjoy a bit of alcoholic enjoyment sprinkled throughout our festivities, the Drunken Elves candle has notes of roasted chestnuts and rum. It has the added allure of being named for adorable, tiny creatures in a hilarious state. (How can you not giggle at that name?)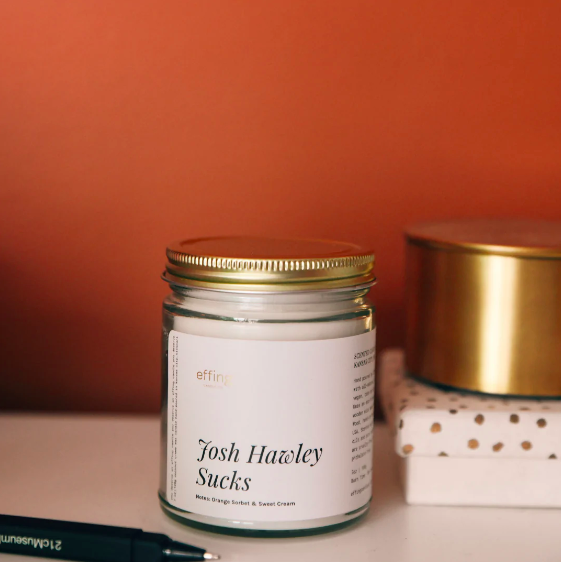 Maybe it's the name. Mostly it's the scent. But if ever there were a reason to have the proper noun "Josh Hawley" printed anywhere in your home, it is because of this candle. Never before were we so tempted by flavorful citrus notes and the welcoming warmth of sweet cream. Never before have we felt so conflicted buying something with a politician's name on it. 
The Founder's Recommendations
5. Fir F*ck's Sake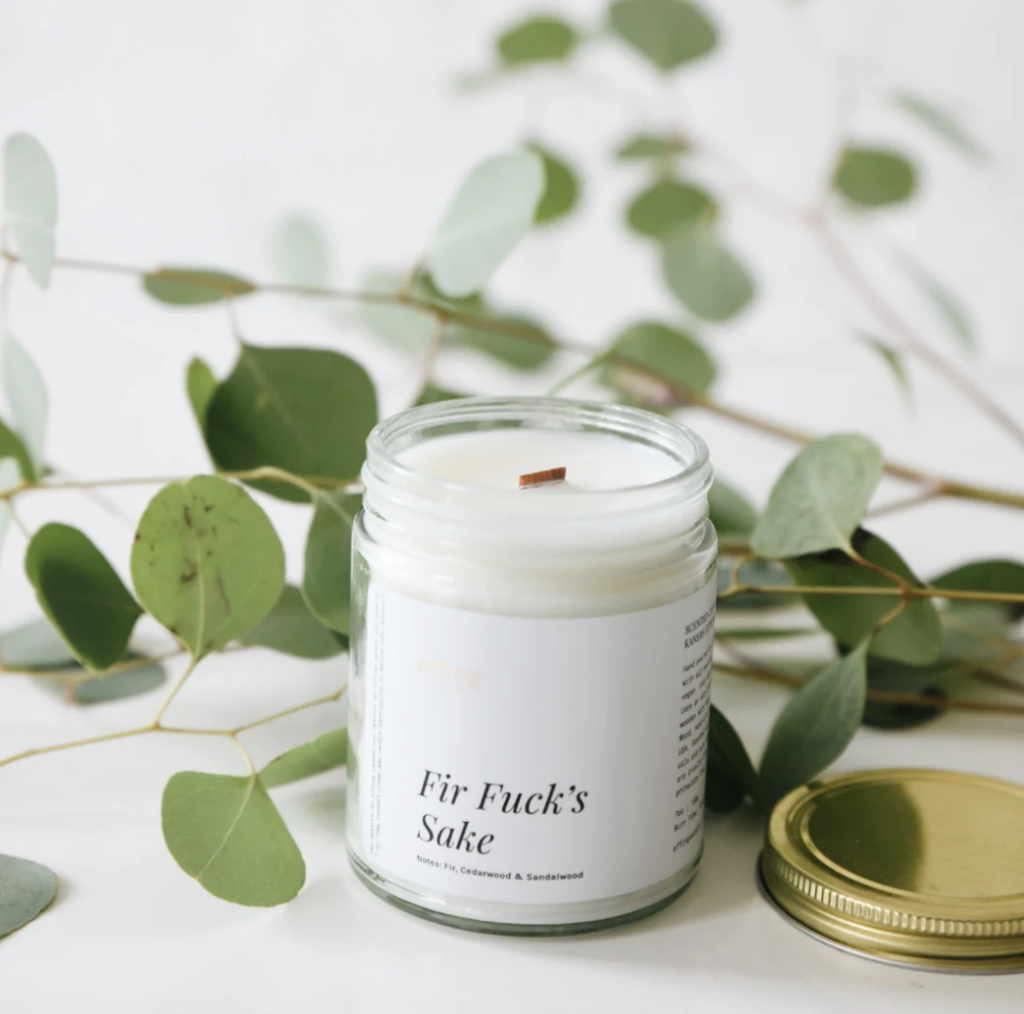 This time of year, Birdie's favorite scent go-to includes Fir F*ck's Sake. As the number one best-seller at Christmas, this fir, cedarwood, and sandalwood candle is perfect for creating a holiday vibe.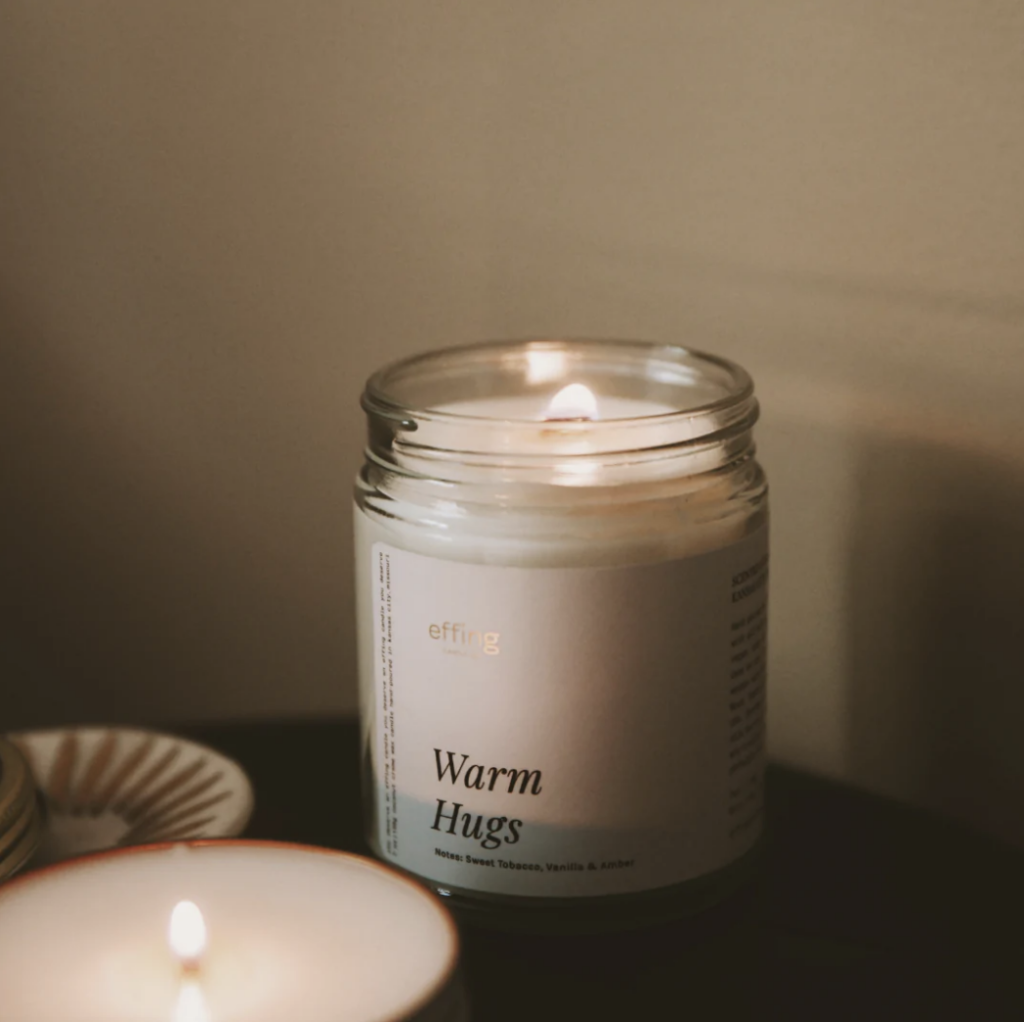 Who doesn't love a hug? Birdie sure does — and this candle has it all. With notes of sweet tobacco, and vanilla, the scent truly feels like a warm embrace.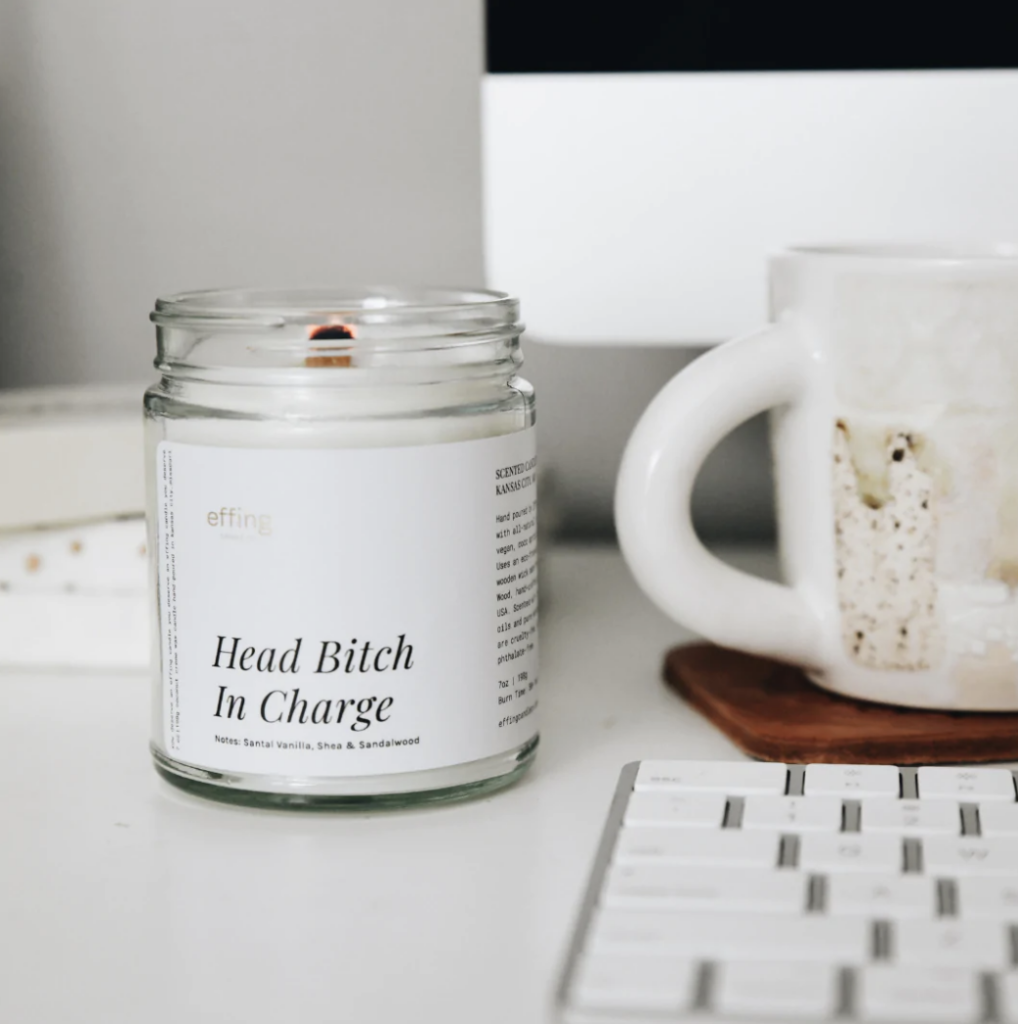 As the name states, this candle is perfect for the head bitch in charge. Is that you? A friend? A coworker? Either way, the notes of santal vanilla, shea and sandalwood make for the perfect fun holiday gift.
Ready To Stock Up This Holiday Season?
During the holiday season, effing candle co. stocks 3.5oz travel tins as well as seasonal vessels with longer burn times. While supplies last, you can procure your favorite holiday scent in an elevated limited edition 8oz gold holiday vessel – and a 55-hour burn time – for $49.
Effing candle co. has also developed a vessel recycling program, where you can refill your store-bought vessels for a fraction of the candle's original pricing.
Birdie likes to emphasize the importance of shopping locally. Remember to shop local this holiday season — especially with companies that are paying it forward in your community. Much like effing candle co.