During the pandemic, the internet became a safe space for people to approach the community. Selling, donating and purchasing used goods in social media marketplaces. Crafting and selling your own wares and goods in groups. Not to mention the bevy of social media communities — namely Facebook — that housed many people from all areas of life with specified interests and hobbies.
Even for people who wanted to learn more about plants. 🌱
Enter: A Plant Group
Suffice it to say, many people needed something to take care of during the pandemic. In just a few short weeks, plant groups were popping up all over the internet. Plant enthusiasts of decades were finding a safe space to intermingle with people new to their green thumbs, and the intermediate propagation queens and sellers. Like plant identification apps, but better.
What Joining a Plant Group Can Do For You
1. They Foster Plant Education
I began my journey into the plant world with just eight plants before being locked in my home for endless hours of monotony and fear of never having exposure to clean air. After telling my friend I wanted every plant cutting I could get my hands on, she told me to check out some of the local plant swap groups online. Thus, my plant journey began with an elderly woman named, of all things, Karen.
Karen had been raising plants of all sorts for decades of her life, and she was offering a slew of small-rooted plantlets for free in a local Facebook group. She explained the types of cuttings she had and included pictures of them. I commented almost immediately, and within 2 hours, she was trusting me with her home address to come to pick up some starter plants.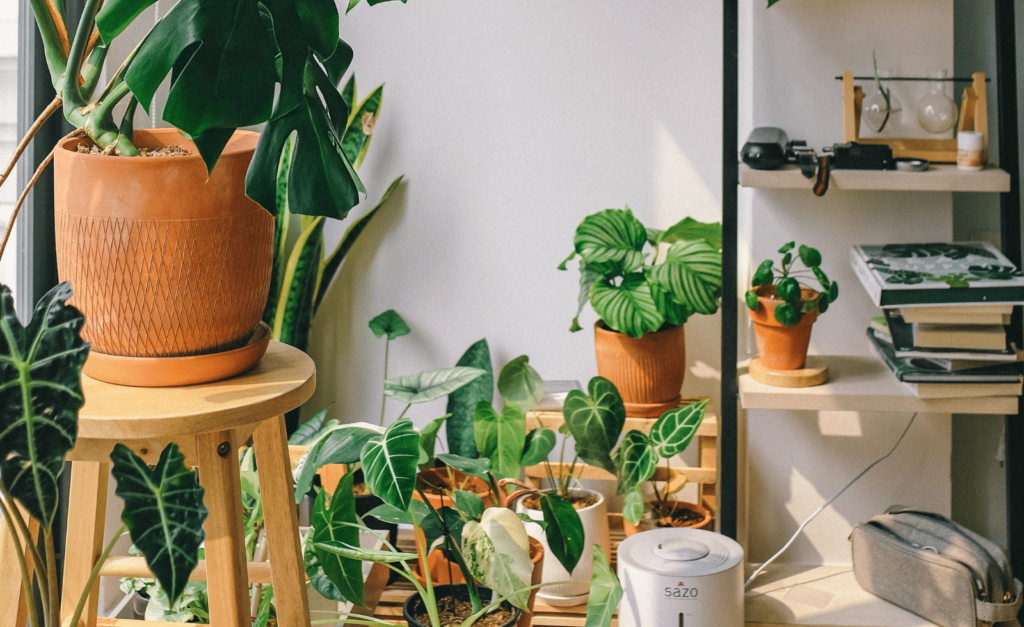 When I showed up, she was standing outside with her gardening gloves on, tending to her outdoor beauties. She handed me a plastic bag with 5 plants inside, each one with the name printed in Sharpie on the side. In our earlier communication, I indicated that I was new to the plant game. So, she gave me some quick instructions and told me caring for these varieties would be fairly easy for someone new to the plant game.
2. They Ensure a Safe Environment
Safety is definitely found in these communities. Closed Facebook groups have the added bonus of security since you need to request to join. These closed groups — which you can often find by looking up your local area name and plants in the search — may ask for references, your intentions in the group, personal information to verify your identity, or any other slew of details to confirm that you are not joining the group with malicious or weird intentions.
Many closed groups want to foster a sense of security and community and will not let people sell plants for profit into them. So they will ask if you intend to purchase or sell plants and grant you access based on that response.
In this instance, I had provided my email address and the neighborhood that I lived in, so they could verify if I had tagged myself in the area previously and that I was a human being. They were able to verify everything pretty quickly. However, some may find that the verification process can take several hours to a few days.
3. They Make It Easy to "Try Plants Out"
Some people will kill off the heartiest of succulents. Others just cannot figure out how to properly keep a palm alive. Sometimes, it takes trying a variety of plants to know what you like and what you can realistically nurture in your environment.
I tried my hand at a pinstripe prayer plant very early in my plant swap shop experience. Of course, the plant itself was an actual marvel. It looked like someone had drawn with Wite-Out and pink highlighter on the leaves in perfect stripes. But it required some insane amount of humidity that I just could not figure out.
After about 3 months of trying to make my plant friend feel at home, things were more crispy than I had hoped. So, not wanting to kill a plant, I listed her for swap. Within minutes, I had someone online wanting to swap a host of tradescantia cuttings. I met her before her nursing shift down the street in the wee hours of the morning, a safe swap in public.
4. They Encourage Fun and a Sense of Community
Many a plant group have expanded into offering in-person events in the days since lockdown. Weekend swaps, BYOB patio evenings, and lice music outings are among the offerings in several of my communities right now. Plus, if you have questions about or issues with a new plant, you can post a photo with a description of symptoms, and you will undoubtedly have a quick answer (or 12) within moments.
Some people who are in the groups actively seek out free plant opportunities or great deals around town. Local grocery store just got a giant shipment in of an in-demand plant? They're gone in 2 hours because Linda told everyone in the group. Home Depot just set some fixer-uppers by the dumpster? Doesn't matter how outlawed it is, you may have some plant fanatics nabbing those under the cover of night.
While many groups will discourage the sale of plants for profit, non-profit work is encouraged. People – like my new connection Monica – will auction off less common plants for charity, while others will have inexpensive and approved plant sales that people go absolutely wild on in the comments.
Yeah, the groups tend to be full of people who know way too much about plants. These people will absolutely want to show off their knowledge. Instead of being annoyed by the plethora of information and thoughts from virtual strangers, allow yourself to learn a little bit.
After all, that's the only way to grow. (Pun intended.)
Ready To Join a Plant Group?
Looking for an open community in your plant growing journey? Follow @plantkween and @hiltoncarter for both indoor and outdoor inspiration. They are my personal faves.
You can also simply go onto Facebook and type in your local area + the word plants. You're pretty much guaranteed to come across a group you can join there.
Happy planting!