Years ago, the thought of asking for a table for one would have sent me running for the hills. Now I dine alone on a regular basis – and I think anyone can benefit from enjoying their own company in that way.
I know what you're thinking: Don't you feel awkward having dinner by yourself? The answer is no. But discovering the joys of solo dining didn't happen overnight. Here is why I dine alone on a regular basis and why you should consider it too.
The Benefits of Dining Alone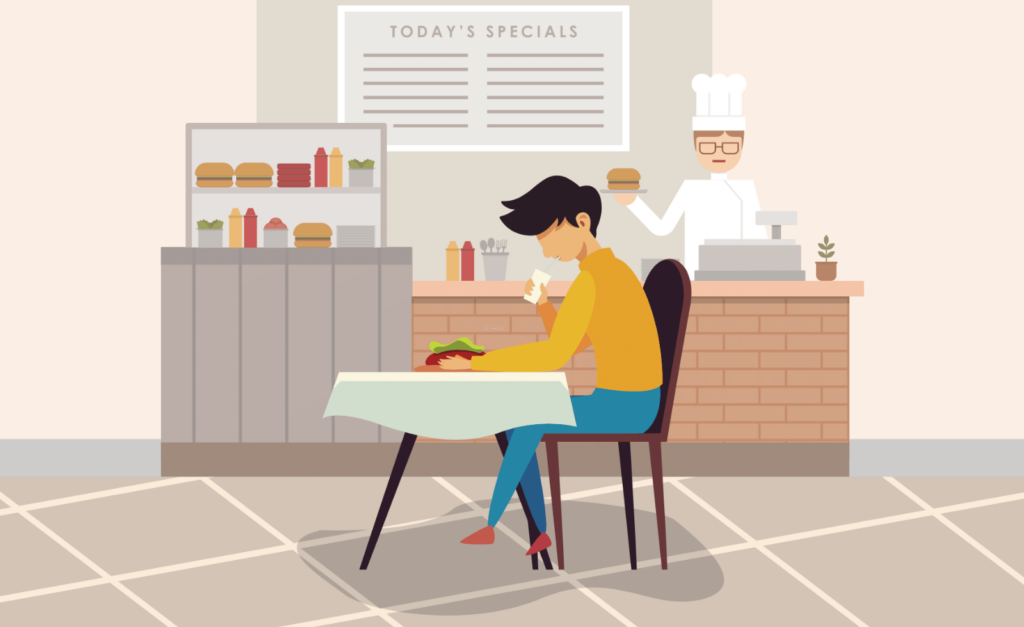 Solo dining is actually on the rise. In 2020, solo diners represented the largest share of U.S. restaurant visits, a 1% year-over-year increase, according to a report by The NPD Group. 10% of solo dining visits were at full-service restaurants – aka a proper sit-down meal where you may start with a cocktail and end with dessert.

Going for a nice dinner by yourself can be an act of self-love. Doesn't it feel nice when a romantic partner wines and dines you for a special occasion? You can give yourself that feeling anytime you crave it by taking yourself out on a date – no date required. Bonus points if you take your time glamming up for the occasion.
Solo dining can also feel empowering. There are stigmas around people eating at a restaurant alone, so it takes confidence to tell your waiter, "no, it's just me" and not wonder whether people are giving you strange looks. There is something exhilarating about breaking taboos.
Plus, you get to truly take in the dining experience. I find it so relaxing to order a glass of wine and slowly sip on it while I take my time browsing the menu and people-watching. I savor each bite of food fully, noticing all the flavors and textures of the meal. It's basically a mindfulness practice, but with tasty eats.
Finally, dining solo can help you connect with yourself (if you don't spend the whole time on your phone, that is). You get to reflect without the distractions of your daily routine. As an introvert, I love my own company. But I truly believe that everyone should practice just sitting and being with themselves every once in a while, especially in our busy, noisy world.
Tips For Enjoying Solo Dining
As I mentioned, I didn't always feel so comfortable taking myself out to dinner. It all started with lunch. I was shopping by myself and got hungry. Instead of grabbing something from the food court, I thought it would be fun to sit down and order food somewhere. I recommend breaking the ice with solo lunches – it's less intimidating than dinner.
Before venturing out to restaurants by myself in my own city, I got out of my comfort zone by eating alone on business trips. It felt like it was more "excusable." You may want to give solo dining a shot when you're out of town to warm up to the idea of checking out the new restaurant that opened in your area without waiting for your friends to be available.
If you're worried about feeling awkward but don't want to be on your phone the whole time, bring a book. Sitting at the bar can also feel more approachable.
Go out on a weekday, when it's quieter, as heading to a hotspot on a Saturday night can be a bit overwhelming.
Feeling self-conscious about people looking at you? Remember that people tend to be more concerned about themselves than what a complete stranger is doing. At the end of the day, you can't control what others think.
This is a great opportunity to stop worrying about being judged and focus on the wonderful meal in front of you. You may just become a fan of solo dining too.