Murals are often beautiful, but sometimes, there's more than meets the eye to these large public artworks. They're beautiful to look at and inspire creativity — and they often mean more than you might initially think.
Check out our favorite nine murals from artists that actually have a deeper meaning, below.
A Deeper Dive Into The Meaning of 9 Murals
1. All Life is Sacred – Santa Fe, New Mexico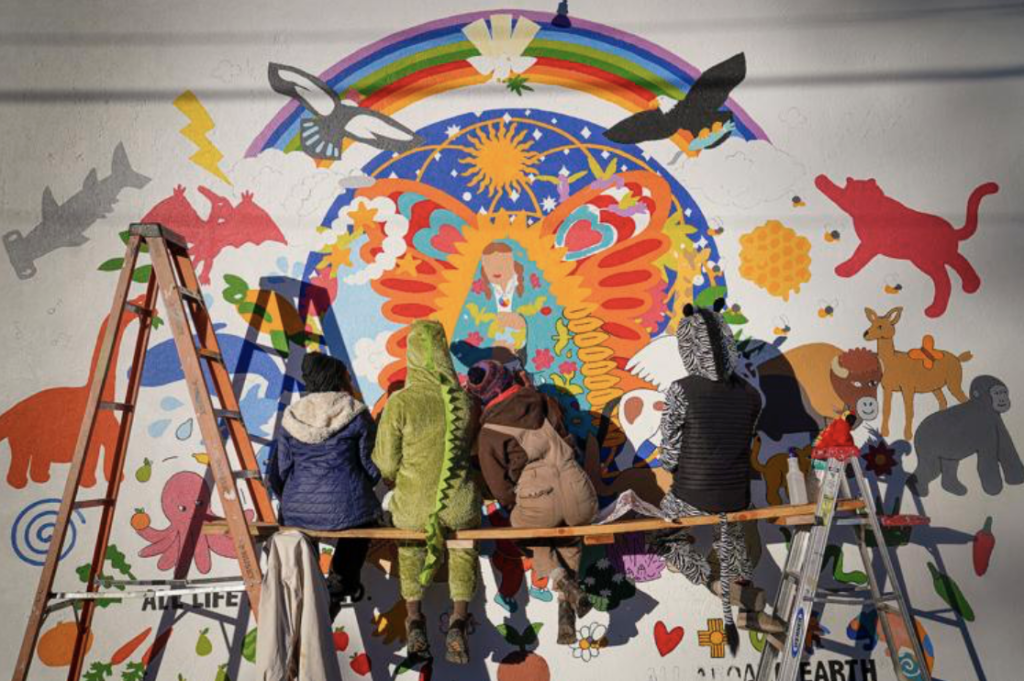 Gracing the outside wall of Body by Santa Fe, this mural was funded by a Santa Fe Arts and Culture Department program that donates money to projects that enforce safe COVID habits. While the mural is playful and childlike from the outside, artist Jonathan Meade told the Santa Fe New Mexican that the aim of this mural is to address feelings of disconnect brought about by the pandemic.
2. Challenge Everything. Create Anything. – Ann Arbor, Michigan
Created by TreeTown Murals, this piece is an homage to Ann Arbor's resilient, lively community. Painted on the 100-foot wall of Courthouse Square and sponsored by Destination Ann Arbor, this mural matches others in the city. The mural itself isn't just an impressive feat – it's a message that this tight-knit Michigan town is constantly creating, growing, and discovering.
3. Finding Tomorrow – Richmond, Virginia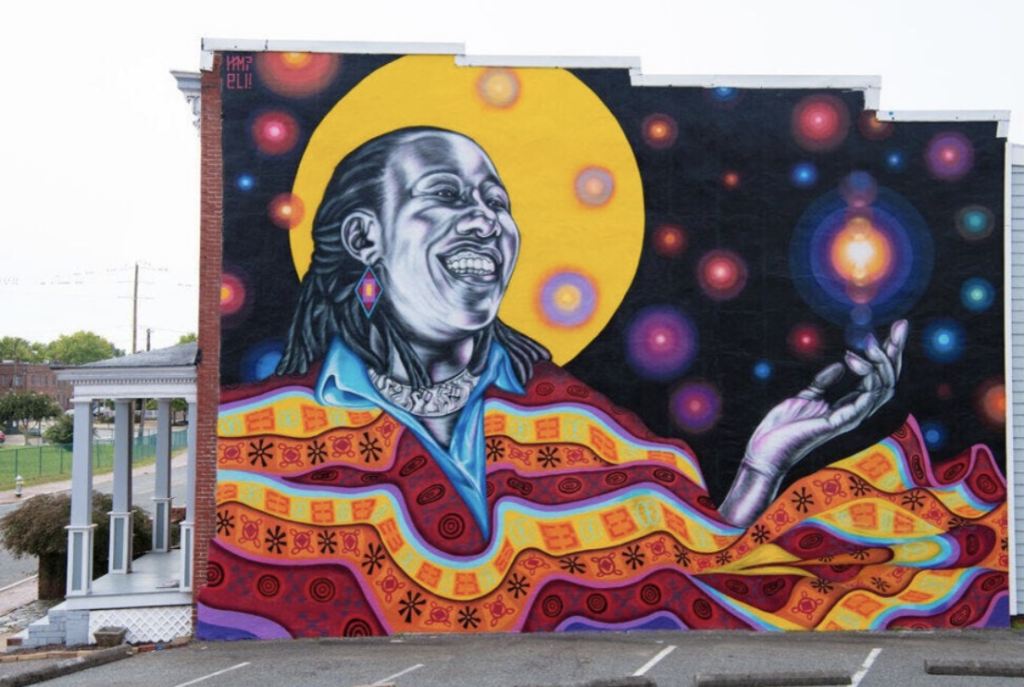 Funded by the public art project Mending Walls RVA, this mural was a collaboration of two artists, Hamilton Glass and Eli McMullan. Mending Walls RVA aims to pair up two artists with different backgrounds to collaborate on works about modern topics. And while this mural is vibrant and cheerful, it has a deeper meaning. The portrait in the mural is the late Lorna Pinckney, a Richmond icon who founded Tuesday Verses, an open-mic poetry series that spanned 15 years and multiple states.
4. Hertel Walls – Buffalo, New York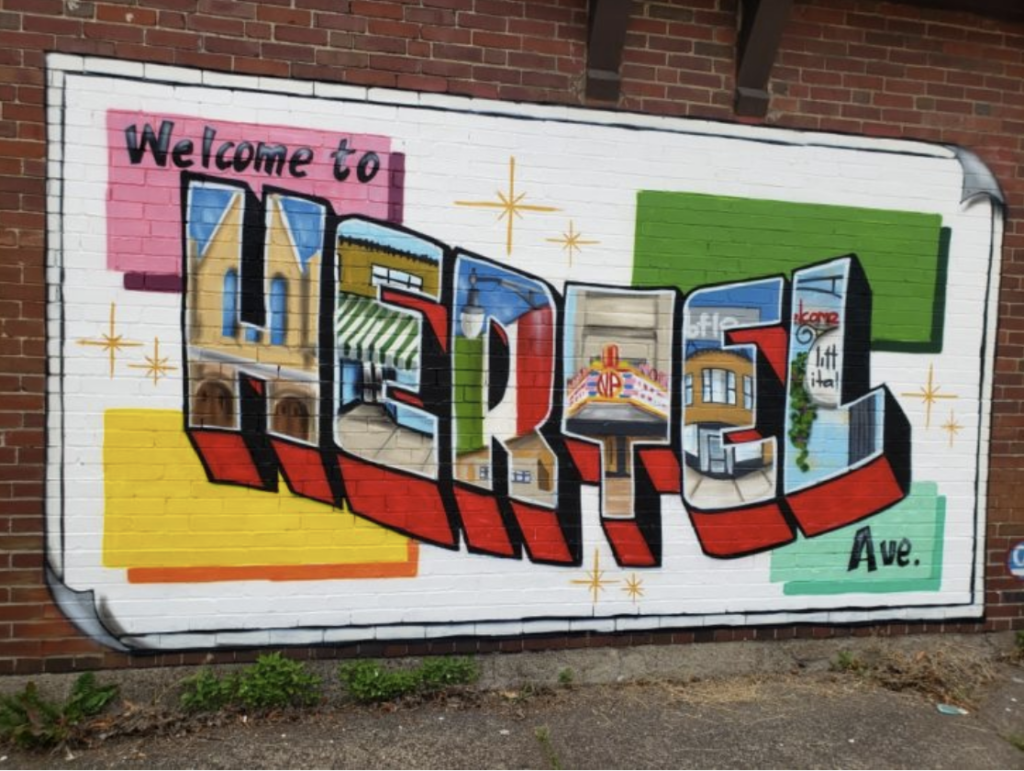 Founded in 2017 by the Albright-Knox Art Gallery, Hertel Walls is an amalgamation of murals on Hertel Avenue. The first mural of the bunch was "Magic Buffalo" by Bunnie Reiss, followed by eight others, including Casey William Millbrand's "Lookin' Good" and White Bicycle's "We Are Here." While these fun and interesting murals serve as eye candy, the foot traffic from these works of art promotes business among local art galleries and restaurants along Hertel Alley.
5. Untitled – Los Angeles, California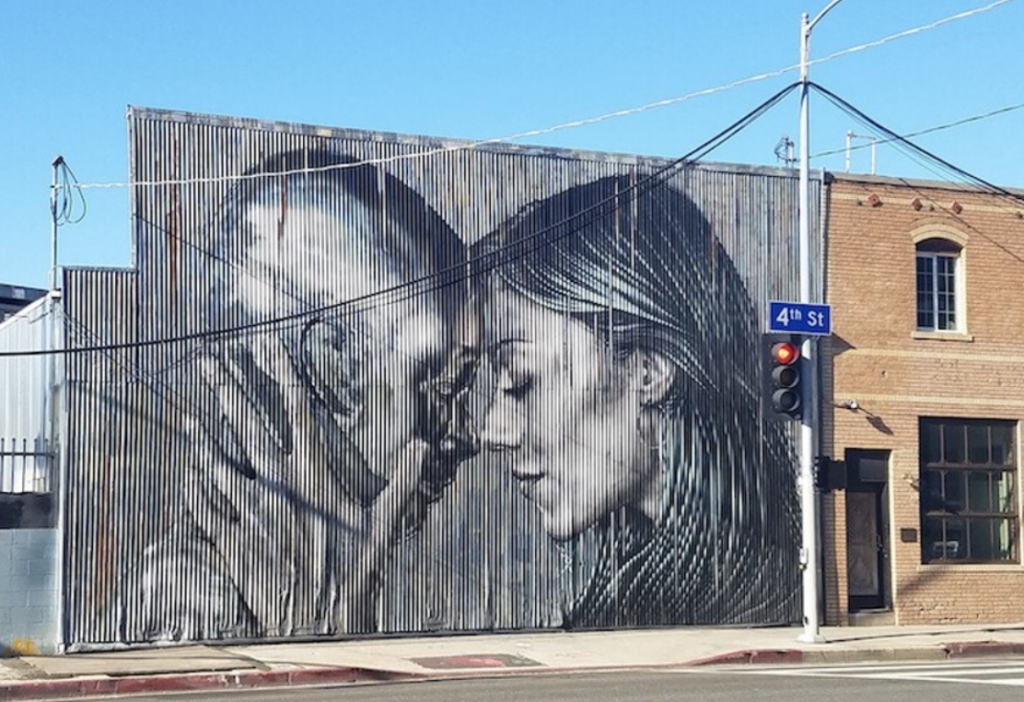 In the heart of Los Angeles' 4th Street Arts District, there are 100 murals gracing the walls and buildings – one of which is Christina Angelina and Fanakapan's "Untitled," painted in 2015. This mural was painted on a corrugated metal surface, which creates texture and reflects light as you walk by. In addition to the intimacy and emotion relayed by the two figures, the canvas gives this hyper-realistic mural a life and energy of its own. https://player.vimeo.com/video/117331630?h=fc9689cc8a
6. Chrome Dog – Miami, Florida
On the side of Jose De Diego Middle School is Bik Ismo's "Chrome Dog," painted in just four days with spray paint. Ismo was a part of the Re-Imagining the Arts in Wynwood (R.A.W.) Project for Art Basel 2014. In this event, street artists created murals and put on performances to raise money for a magnet program for the arts. Today, the mural remains in the community as a reminder of the importance of fostering young artists' talent.
7. Garden of Delight – Philadelphia, Pennsylvania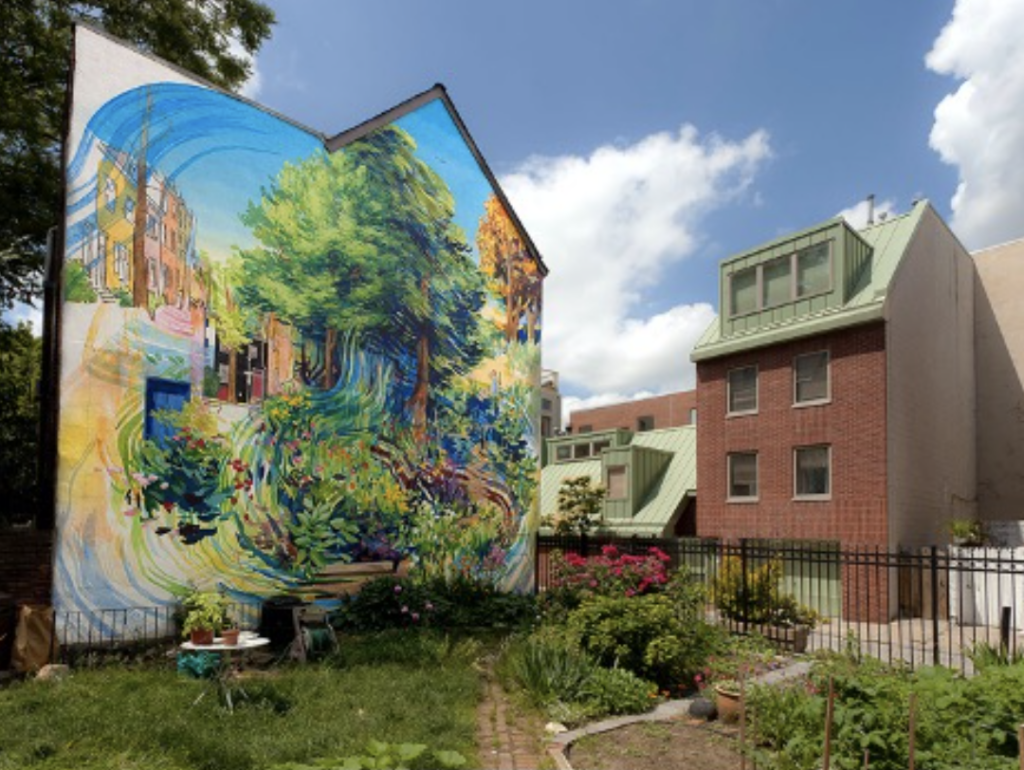 Painted in 2010 by David Guinn, the watercolor-style "Garden of Delight" was sponsored by the city of Philadelphia. Guinn grew up in this neighborhood, Center City, and he chose to integrate the importance of societal unity into this mural. To signify harmony, he includes slices of life and moments from the surrounding streets. In the center, two trees lean together in an embrace, and the bottom of the mural blends into the actual garden below.
8. You Belong Here – Greenbrier, Arkansas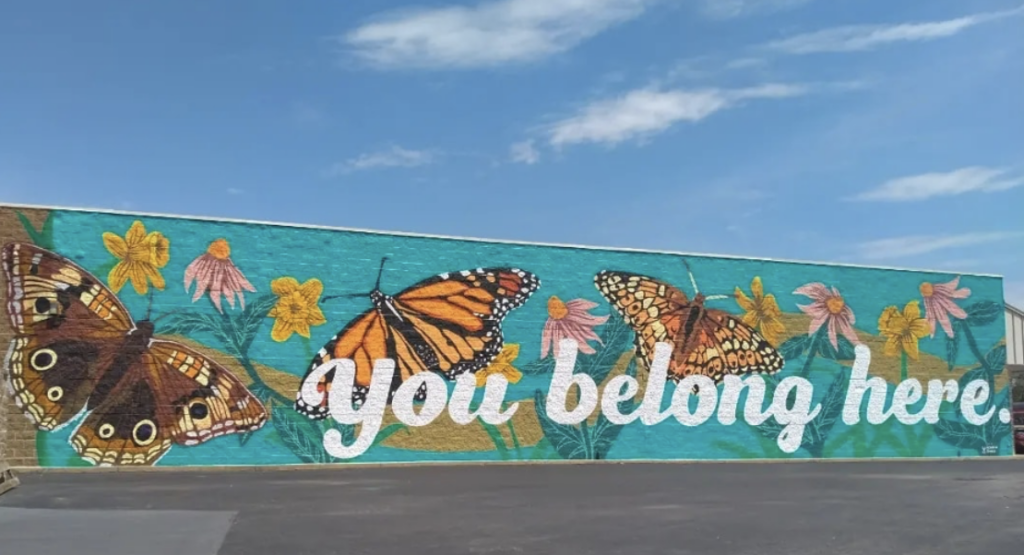 For tourists, this mural might look like a welcoming sign, but for locals, this mural is bittersweet. After the tragic loss of a high school senior to suicide in 2021, the city of Greenbrier commissioned artist Jessica Jones to paint a mural on the largest wall in town. The mural was created alongside the Hayden Simpson Fund to honor the late teenager, which raised $30,000 for mental health resources in the community.
9. Rainbow for Frontline Workers – Nashville, Tennessee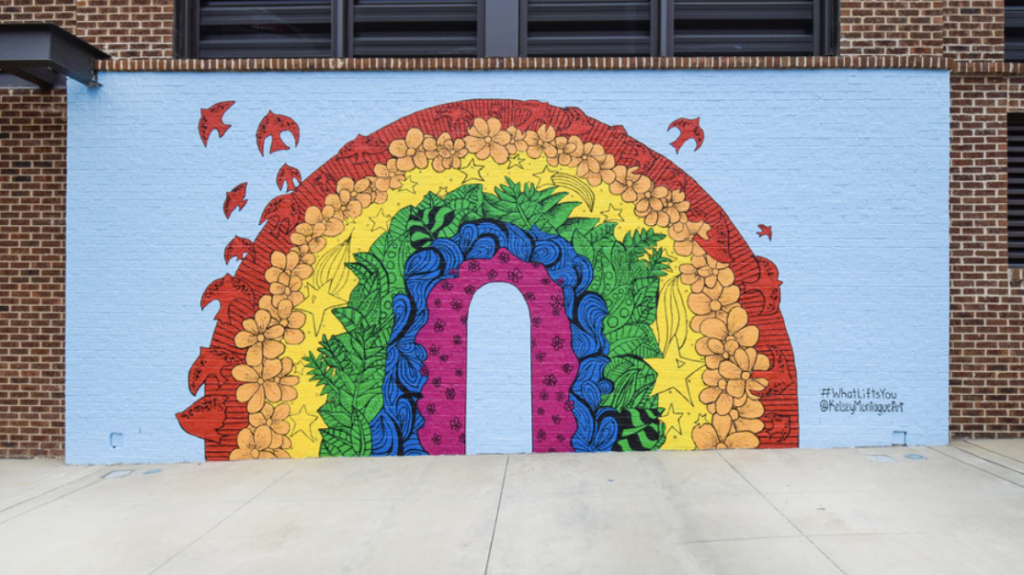 Artist Kelsey Montague, well-known for her other Nashville mural, "Gulch Wings," created a new mural dedicated to frontline workers in 2021.
"Rainbows, to me, have a spiritual component and mean there will come a day when this pandemic no longer haunts us," artist Kelsey Montague told FOX17. "A new beginning is coming. We just need to hang on."