Chick-fil-A has mastered the chicken sandwich. Their offerings are made of whole ingredients and are limited enough so that they can continue to master the meals. The thinly sliced pickles, present just long enough on the breaded patty to leave a soggy pickle stain, is somehow more tempting than disgusting.
Even with the massive history of controversy surrounding it, Chick-fil-A still holds the hearts of many fried chicken enjoying humans in the United States. But not for everyone.
The family favorite chain was founded by S. Truett Cathy, a devout Southern Baptist, who brought his religious beliefs into the company itself. After the company — and Cathy's personal contributions — to anti-LGBTQ organizations went public over a decade ago, many people stopped purchasing from the beloved fast food chain.
While some will boycott the chain altogether, others may feel keen on a Chick-fil-A sandwich on Sundays. Because of the President's religious affiliations, this is the one day that every restaurant in the chain is closed. What can you do when a reasonably consistently good meal is taken off the table?
Come up with a genius idea to counter the brand entirely.
Introducing: Sunday Side Chicks
Sunday Side Chicks is a traveling chicken sandwich experience, branded with eye-catching design to draw you into an otherwise empty parking lot at the tail end of your weekend. Best news yet? The company's core beliefs reflect many of our own.
We believe in… Delicious F*cking Chicken. Especially on Sundays.
We believe… Memes Can Start Great Companies. We hope to be the first of many.
We believe… All Should Be Welcome. At the Church of Chicken.
So, what makes the ideation and execution of this mobile chicken option so deliriously beautiful? Read on for reasons to keep your eyes peeled for a mobile stop in your town!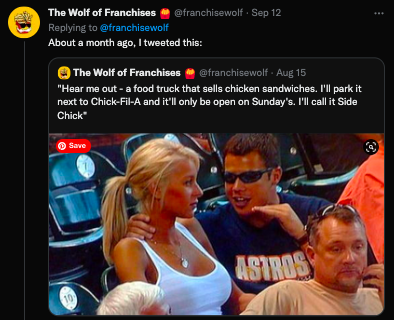 People Crave Chicken on Sundays
The Wolf of Franchises — a highly touted source for franchisees in the United States — considered a solution to our Sunday chicken woes on August 15th. The brand seems to have been developed on a whim, which is often the best place to start. There's a chance it was a little more calculated and perhaps the social media was planned out in advance, but if that's the case then we have to tip our hats to the marketing genius behind it all.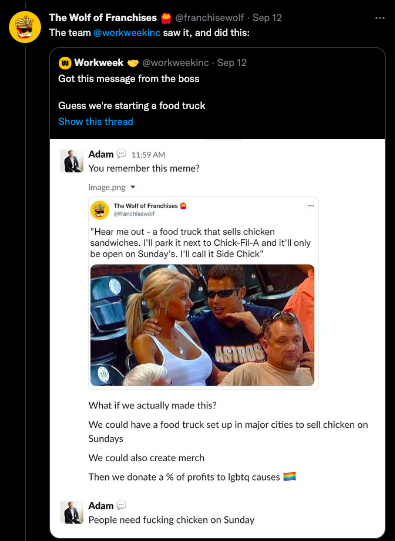 Comfort Food is Amazing on The Weekends
Comfort food on Sundays is important to people. Just ask the person that created brunch, or the wunderkind behind chicken and waffles. Sunday is one of the biggest days for food cravings during the week as well. Brunch is a staple on these days – especially in big cities.

The expectation that people are experiencing higher stress levels about their upcoming Monday —otherwise known as "Sunday Scaries" — is also an indicator that people may be engaging in less healthy eating habits on Sundays.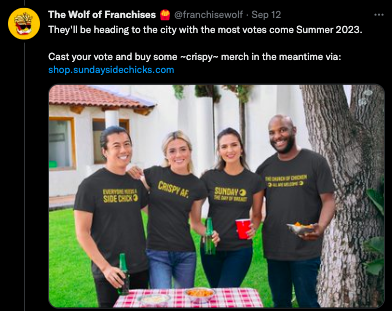 Sunday Side Chicks' Merch Line is Well Done
The Wolf of Franchises proves what a well-rounded machine they are by creating a simple merch line with double entendres as the focus. Slogans like "Everyone Needs a Side Chick" and "Crispy AF" endearingly grace these black and yellow shirts, a fun way to help amp up the chatter in the lead-up to the brand's launch.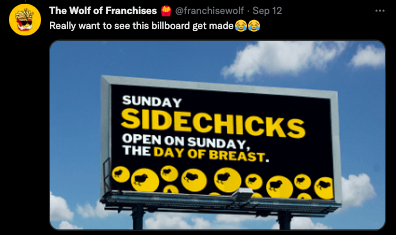 Sunday Side Chicks is Expected to Be in High Demand
Creating a food truck with delicious comfort food options that's only open on Sundays? That creates massive demand, and will surely lead the truck to sell out at each stop.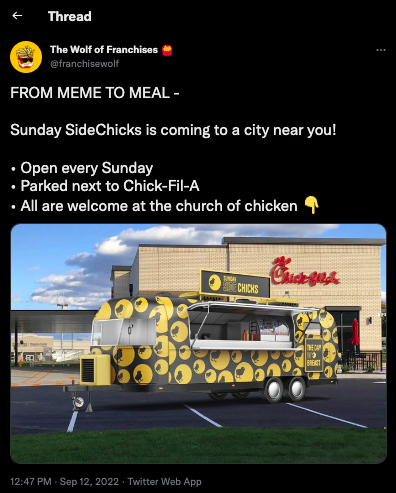 Sunday Side Chicks is Welcoming
The entire thread was posted under this headline on September 12th — just under a month after the first tweet. A food truck with limited travel accessibility and comfort food options that donates proceeds to a worthy cause? It seems like this idea was destined for a big life from the very start.
Let's not forget that 7% of the businesses' proceeds will be going directly to LGBTQ+ causes — effectively working against the money raised by that other chicken franchise — and is welcoming everyone to the table.
Sunday Side Chicks is the traveling chicken sandwich truck opening in Summer 2023. It will be open on Sundays around or in a Chick-fil-A parking lot near you. Vote for your city to be dubbed "Chicken City USA" and get a visit from the team at Sunday Side Chicks!