While many would assume humans' collective short attention span is a sign of the species' degeneration, others have seen it as an opportunity to thrive in change. Enter: The pop-up. 
Pop-up culture — like pop culture — has been a welcome sign of the times. Inspired by classy supper clubs of the 1960s, pop-up restaurants and experiences have re-emerged and reinvigorated themselves over the last decade. 
So, what is a pop-up? It's a store, restaurant, or experience that "pops up" in one location for a set period of time. Sometimes, it is there for a few days, often a week, a month, or any other pre-determined timeframe. The location is often unexpected and allows that brand or theme access to a different audience than usual.
Some pop-ups are brief and never come back. Take, for example, Luke's Diners which cropped up at designated coffee shops across America for one day in celebration of the second installment of Gilmore Girls. Others occur in dedicated "pop-up" spaces or storefronts that experience scheduled turnover and a variety of brands each year. 
This time of year, holiday-themed pop-ups have been cropping up everywhere. Most of them feel like a warm hug in a world that is still teetering on labeling itself "post-pandemic." We've scouted a few of our favorites across America. Lucky for you, a few of them still have reservation opportunities open for the season!
1. Blitzen's, Here and Now (Santa Monica, CA)
On November 22nd, the popular Here and Now opened their doors as Blitzen's for the Christmas season, an immersive holiday experience like no other. Years into this tradition, the bar's official tagline is "The jolliest bunch of a**holes this side of the nut house!" The schedule is set all winter for recurring burlesque shows, DJs, Drag Queen Bingo, and other festive events, all under the glow of festive decor.
Seasonal beverages like "Fraa-Jeel-Aay! It Must Be Italian" and "Merry Christmas Ya Filthy Animal" make the experience more merry and bright, with snow-ski "shotskis" available for parties to drink together. Not to mention cold-weather classic noshes like baked brie, latkes, pigs in a blanket, and pie.
Willing and able patrons of Blitzen's are asked to donate toiletries for their Annual Donation Drive, with all donations going to PATH (People Assisting the Homeless). For every quart-sized Ziploc bag of toiletries donated, you receive one free cup of punch.
2. Lumberjack Lodge, Smoke Daddy (Chicago, IL)
Chicago is already known for Christkindlmarket and its windy, cold weather. But did you also know it's a great place to catch holiday pop-up action? Not to mention… pop-up action in a really great barbecue spot?
Smoke Daddy in Wrigleyville turns into the Lumberjack Lodge during the holidays, giving patrons a festive backdrop to their mealtime. Plus, the location is known for adding fun events to their calendar throughout the pop-up's residency, like a white elephant exchange and ice carving.
Shotskis are a staple this time of year, with their peanut butter whiskey being a highlight for many.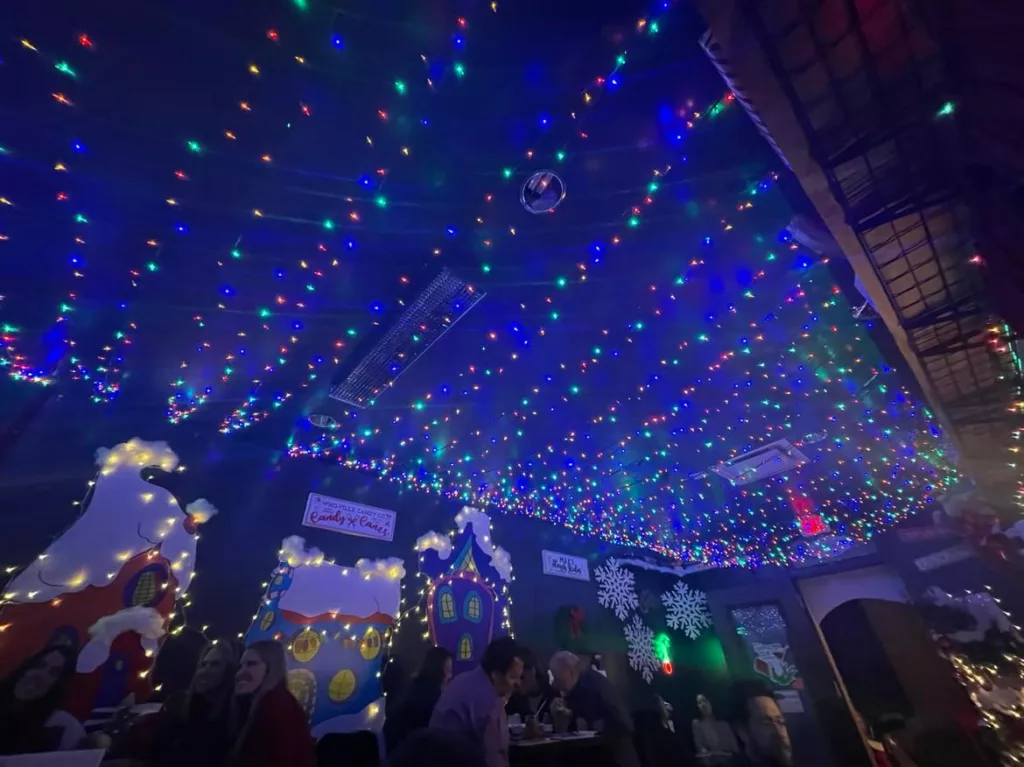 3. How The Conductor Club Stole Christmas, Pierpont's (Kansas City, MO)
Pierpont's is perhaps one of the most traditionally swanky and historical restaurants in Kansas City. Escargo and top-shelf liquor are served at the bar, while multiple courses are enjoyed in the main dining room, surrounded by the hustle and bustle of Union Station.
Since COVID restrictions were lifted many moons ago, a small room tucked away above the restaurant has been converted into a speakeasy-like bar experience. Each season, The Conductor Club releases theme ideas and allows its followers to help vote on the next pop-up theme. So, while the watering hole doesn't boast a different brand or chef each week, it does promise 3-4 dedicated experiences to enjoy throughout the year. (I was able to enjoy last winter's "Home Alone" themed pop-up as well as this summer's nod to "Jurassic Park.")
Their vibrant, Whoville-themed spectacle will end soon, but there is still time to get on the books. These bookings are few and far between, with the room holding about 40 people at a time, 3-4 evenings a week. They tend to be open Wednesday-Saturday, 5 pm-midnight unless otherwise posted. Each week, bookings for the next weekend open up and you must be online to reserve your slot on OpenTable as soon as options go live.
4. The Golden Girls Kitchen, Seaport District (New York, NY)
Looking for a warm and inviting experience, and perhaps "Cheesecake, anyone?"
While it isn't holiday themed, a storefront in New York opened at the beginning of the month to high acclaim from pop culture aficionados the world around. It is the second Golden Girls Kitchen pop-up in North America – brought to you by The Bucketlisters – dedicated to the fond memories we all have of the four queens of the 1980s. The decor feels like you have been launched into the Floridian heat, surrounded by geriatrics and neon. It's an absolute welcome from the cold winter weather outside, and pure nostalgia for anyone who chooses to partake.
The Golden Girls Kitchen will host you for $40 per person. Your reservation includes a 90-minute reservation, main course, and cheesecake. You will also have access to multiple photo opportunities, additional menu items, and limited-edition merchandise.