I'm a city girl. A New York City girl with a penchant for sustainability, who scours thrift stores for whatever the season calls for and rarely finds herself purchasing items brand-new. If it's not the likes of the sustainably-made Sezane or Reformation, I've veered away.

But when David Bitton's Buffalo Jeans invited me on a two-day excursion through Zion National Park in celebration of the brand's 50th anniversary, I traded in the city-slicker look for cowgirl chic, in hopes of finding another brand that I could get behind. Surrounded by the orange hue of Utah, while straddling a dusty horse, I surprisingly did.
As the crew (a mix of influencers, journalists and media personalities) arrived in Utah, I found myself excited about the potential of the trip. If the adventure-filled itinerary wasn't enough to excite me — staying in covered wagons outfitted for the perfect 'glamping' experience, horseback riding through Zion National Park, a night of stargazing — outfit fittings with pieces from Buffalo Jean's Fall collection, for every activity, was the cherry on top. It offered me the hands-on experience to see what Buffalo and its team are truly about.
Giving Buffalo Jeans A Real Try
When I thrift, I look for lasting, quality pieces that can stand the test of time. Is it a piece that truly fits my style? Can I reduce my personal consumer footprint by investing in an item? I decided to take the same approach when it came to giving Buffalo Jean's a try. Given that I was invited to celebrate the brand's 50th anniversary, it was a huge hint at the long-standing quality and history of Buffalo's pieces.
Andie Lipton, the Senior Vice President of Marketing and Communications of Buffalo Jeans, provided further insight into the ethos of the brand. "At Buffalo's core is a brand with a long history of elevating denim beyond basics. Buffalo stands with individuals who embrace being themselves and make denim their own," Lipton says, "And while denim is our DNA, Buffalo has continued to evolve into a brand that continues to push style boundaries, make a statement, and encompass an authentic means of expression."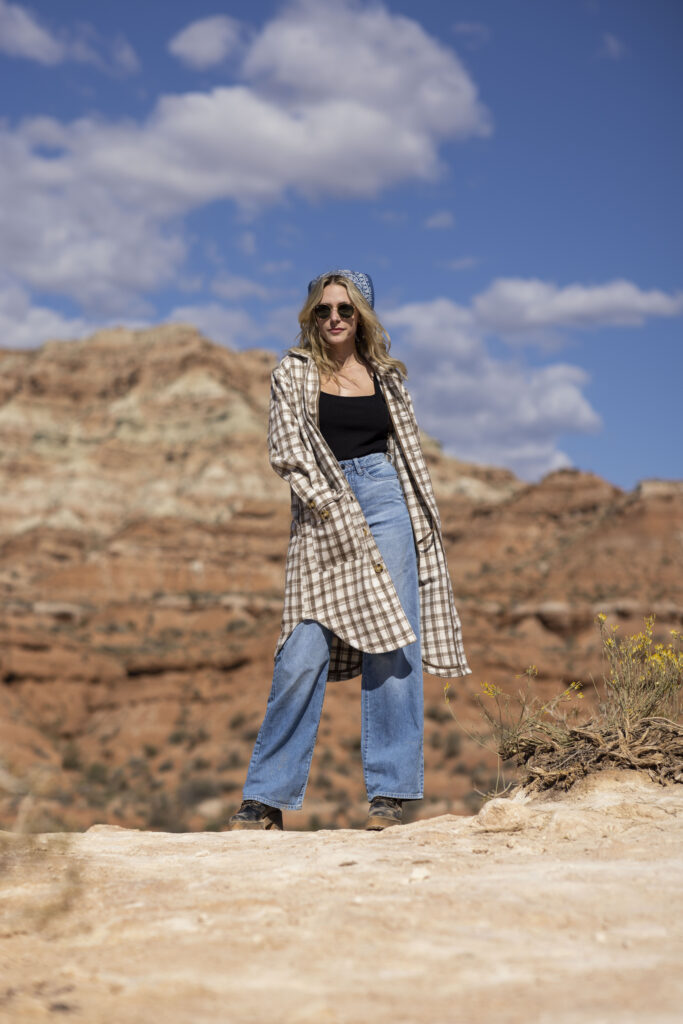 On the first morning of the excursion, I left my Western covered wagon for my personal styling session with Alesha Rayoff-Pearce, the Director of Ladies' Design and Development at Buffalo Jeans. I was greeted with a welcoming, helpful eye to pick out pieces that would not only fit my personal style but would give me a leg up in the afternoon's activities. After hand-selecting pieces and trying them on, I landed on a few pieces that fit the bill including the wide-leg Addie jeans, the straight-leg Hailey overalls, the oversized Marietta Smock Shacket and, my lastly my favorite, the high-rise super wide-leg ALICE Jeans.
"We definitely consider quality and the life of a garment over trends," Alesha shared, "First and foremost when watching the trends we determine if it's wearable, then we ask if it is on brand, and, finally how long do we think it will last."
Inspired by the 90s and a vintage feel, with a contemporary spin, I knew I was in for a treat. My first impression of the Buffalo Fall collection was this: trendy but not ~too trendy~, wearable, effortless and intentional. I like that every piece seemed to have its place and function. Above all, and arguably the most important, is that each of the pieces looked and felt like they'd last. With 50 years of experience in their belt, they certainly do.
As the Utah scenery was calling — where the brand actually shot the Fall campaign photos — I was decked out in my Hailey overalls (how fitting.) I got acquainted with my new horse friend, a ginger girl named Leslie. Leslie was once a wild horse, but she had been trained well and had kind eyes. The ripe smell of hay, horse manure and the wide open spaces made me forget about New York City for a while. Before we knew it, it was time to ride.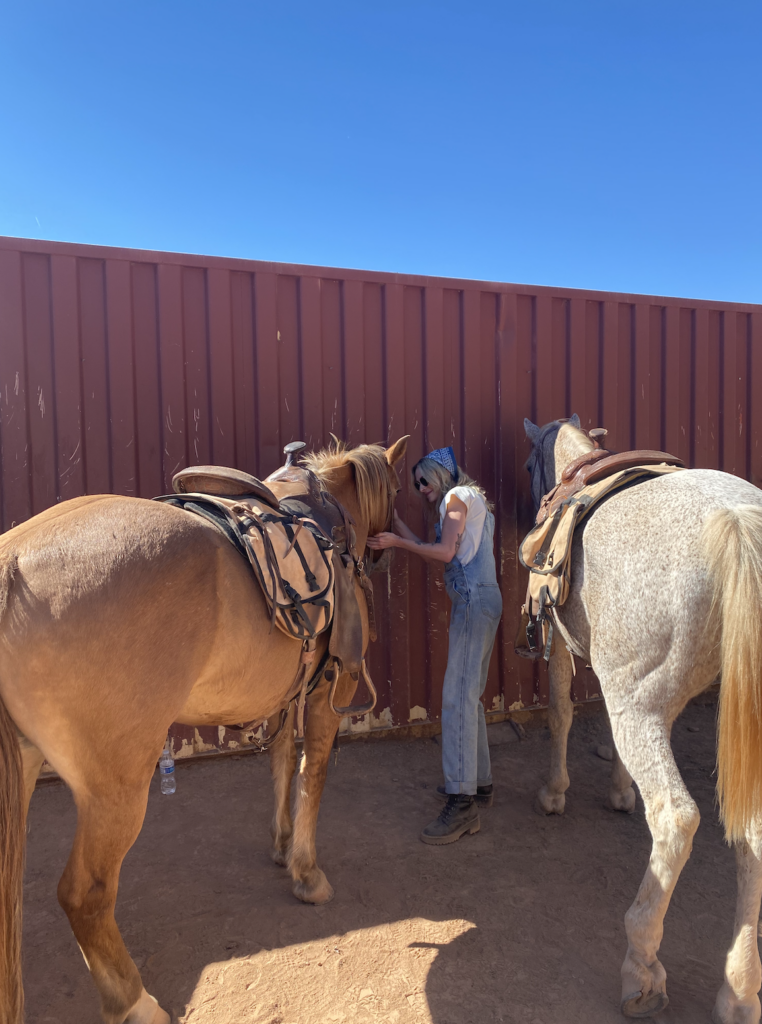 Following a flirtatious cowboy as our guide, the horseback ride led Leslie and me through a gushing river, up and down steep and rough terrain, and galloping through what could only be described as a scene out of a Western film. It was *not* for the faint of heart, but much like my horse Leslie, wild at heart.
That night, I scrubbed off more dirt than I imagined possible in my glamped-out wagon, before gathering with the rest of the group for an evening under the stars with a luxurious dinner and drinks. Wearing the black cut-out Teegan Sweater Dress from Buffalo, I felt my all-black-wearing New Yorker girl say hello again. The campfire gave off a magical glow, as we indulged in s'mores and were serenaded by a local artist who so kindly performed the 10-minute version of Taylor Swift's "All Too Well." Truly, it was a trip to remember.
Did Buffalo Steal My Heart?
After the dust has settled, I can truly say I fully stand behind Buffalo Jeans. Unlike other brands out there, the true care and dedication to creating lasting pieces are palpable. From personally meeting the team behind the brand, to getting to wear the pieces in a place where quality denim thrives, the care and intention the brand has made me a true fan. Buffalo has my support through and through. 
"Buffalo builds denim to last, we don't want it going in a landfill after one season," Alesha told me, "We want you to love each item you purchase and have it in your closet for many years."
In pretend Western Girl fashion, I left Utah with unforgettable memories, new friends, a suitcase full of pieces I'll wear time and time again, and yes, a whole lot of dust. No, I didn't get to ride off into the sunset with a cowboy, but at least I'm wearing a damn good fit.