Autumn wedding season.
Birds are chirping to a nice breeze, cold cocktails, and beautiful views. Wedding season used to be relegated to late spring, early summer, and late summer when the weather was all but perfect.
But now, weddings can truly be in any season — including the cold weather.
With all of the merriment to come, you may feel like you are out of formal attire options that can really make you look chic and feel… warm. Don't worry. We've got some incredible picks that will make you feel like the belle of the ball (without upstaging the bride, of course.)
1. Worthington Long Sleeve Wrap Dress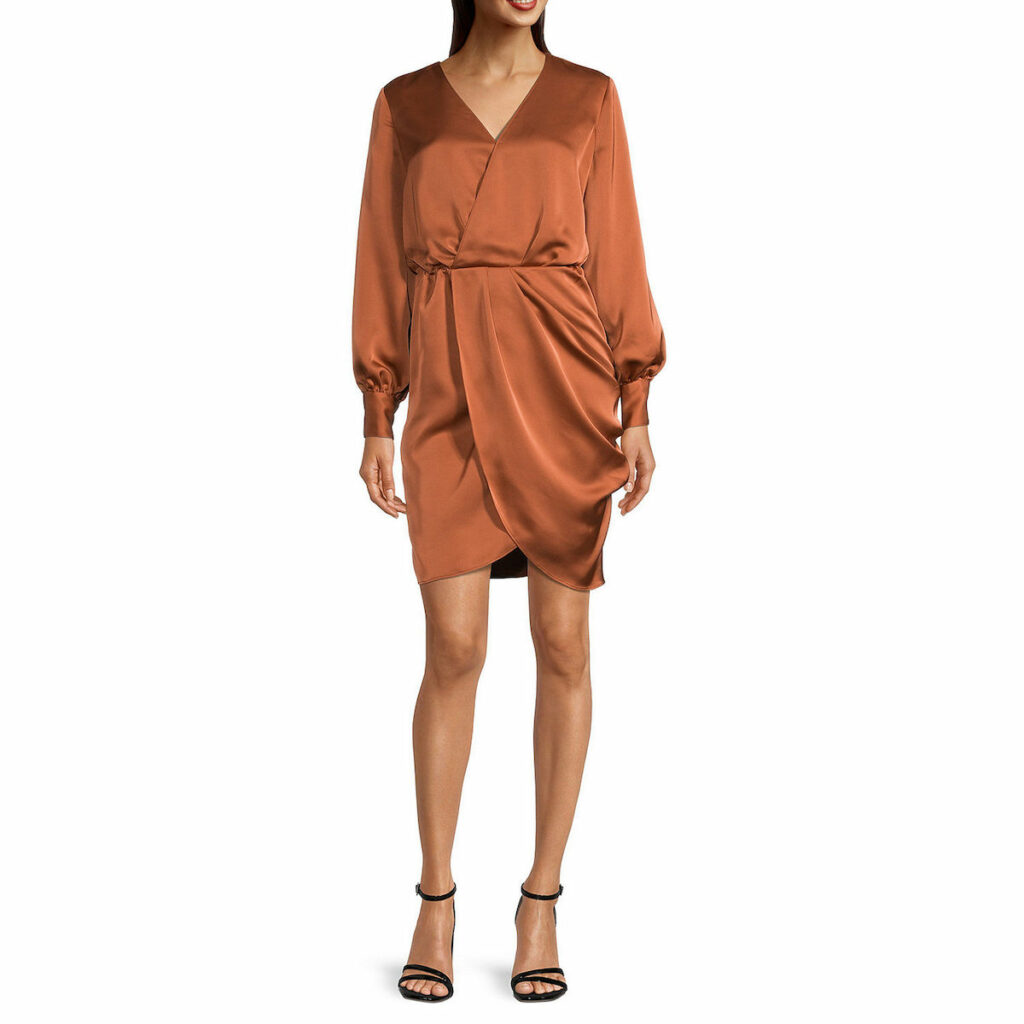 For those who are looking for a tried and true comfy dress option, Worthington's Long Sleeve Wrap Dress will do the trick. Is it a dress to wear to your niece's upcoming recital? Yes. Something to keep in your back pocket for an upcoming bachelorette party or birthday? Absolutely. How about a really pretty nightgown? Why not?
But as a wedding guest dress? You get a pop of color in a flattering shape that allows you to let loose on the dancefloor with reckless abandon. Plus, it's available at JCPenney for a reasonable price, with options in misses, petite, and plus sizing!  
2. Antonio Melani x Nicola Bathie Emily Bow Moire Long Pearl Button Cuffed Sleeve Jewel Neck Shift Dress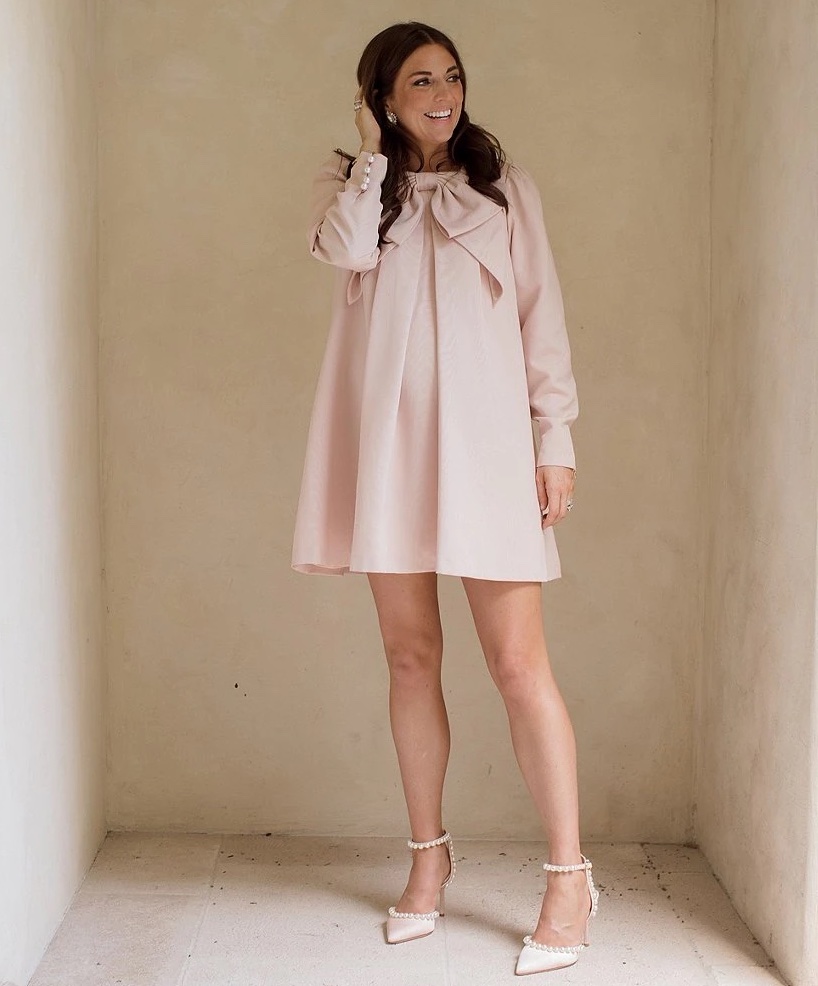 For those darlings into the fashion of the 1960s, this dress is IT. Marrying the talents of two insanely talented designers – Antonio Melani and Nicola Bathie – this shift dress boasts a soft pink color that looks good on every skin tone. Adding in the classic touches of a line of pearls on the cuffs and a big bow for a collar, and you'll be in a Twiggy fever dream! In fact, the details on the dress make it so that accessories are unnecessary, a twist on minimalism we absolutely adore.
If you want to keep your legs a little warmer, try gogo boots or some black matte Sheertex tights and some Mary Janes to complete your time-traveling look. (They're absolutely indestructible.)
3. ASOS LUXE Wired Lace Organza Blazer Dress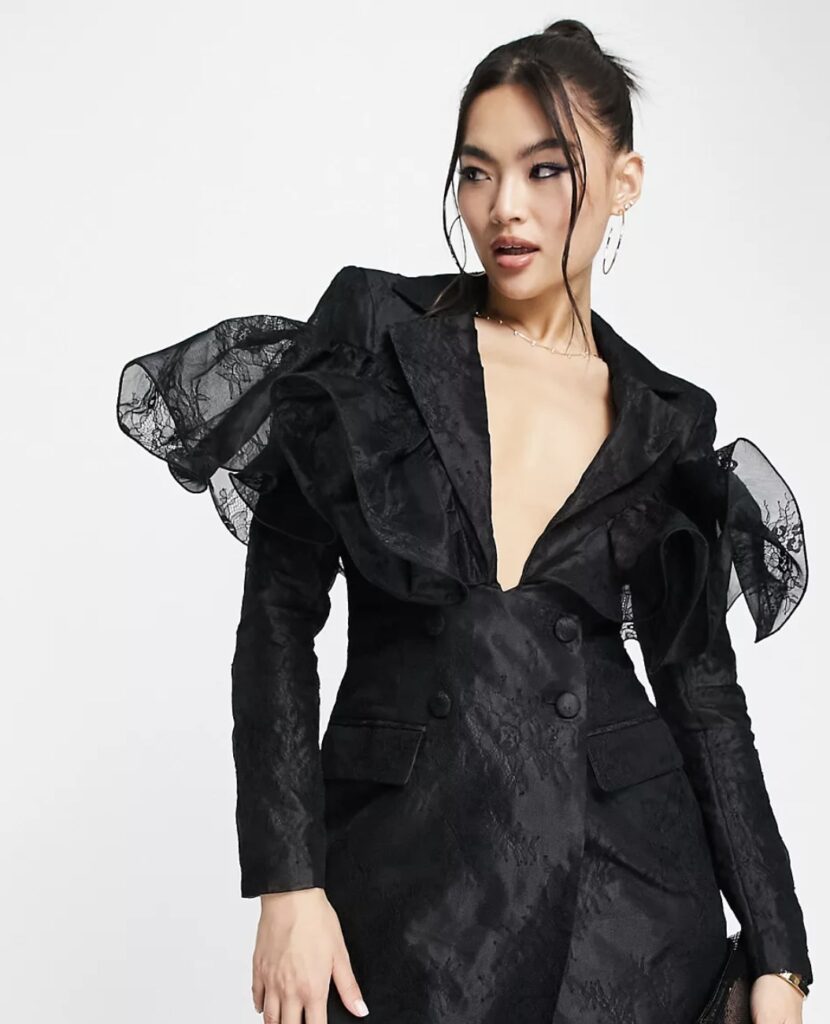 Blazers aren't just for the boardroom. While we have been seeing women rocking a similar look in pastels and brights for months now, this particular dress will be a winter wedding showstopper. A little bit of business mixed with a structured, dramatic sleeve? We're in! Pair the look with earrings, a necklace, and almost any pair of shoes – perhaps a bright bootie heel would do the trick?
Keep the dress on hand for your next work presentation or even a future Derby party.
4. Draped Bodice Wide Leg Jumpsuit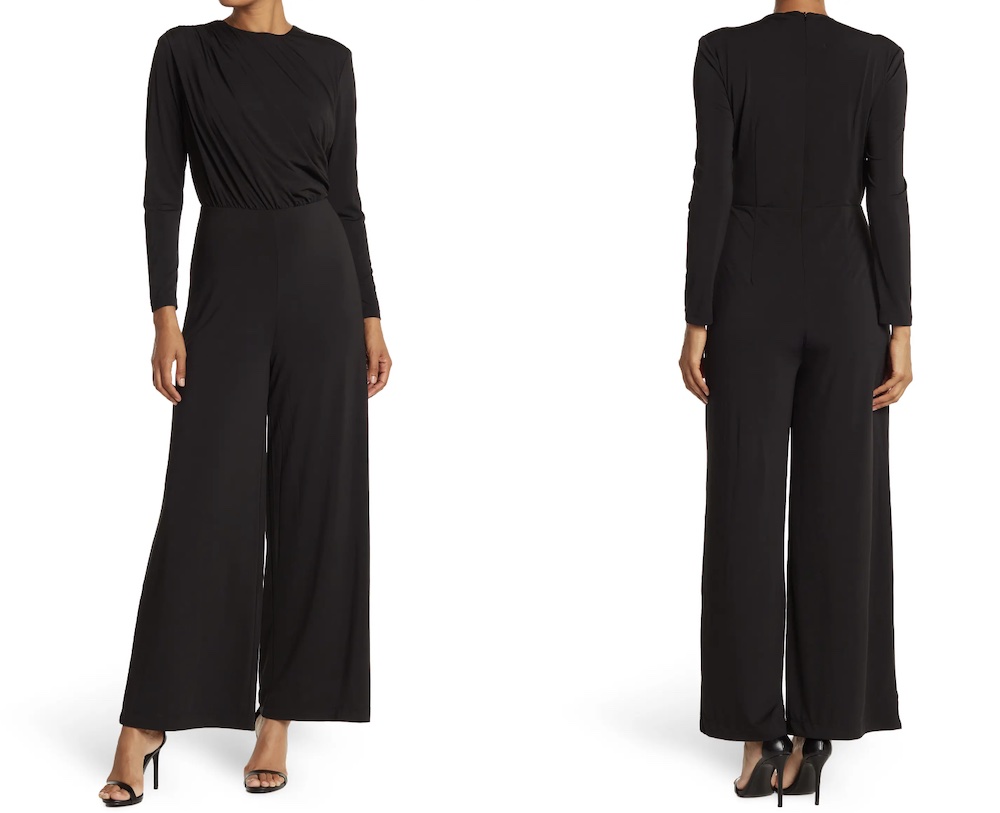 Looking for a jumpsuit that will stand the test of time and the dance floor at your next wedding? Try this Alexia Admore beauty. A simple, high-waisted jumpsuit with a ruched bodice and long sleeves will keep you cozy and warm, even if you don't have time to pair it with a jacket, stole, or overcoat. Available in four colors – black, and a vivid hue or green, fuscia, or red – you can choose to add a bold print shoe to the mix, or keep the color block theme alive. (Dopamine dressing, anyone?) 
The best news? This stunner looks good on all body shapes, and is available with quick shipping options!
5. Sensational Memories Emerald Green Velvet Surplice Maxi Dress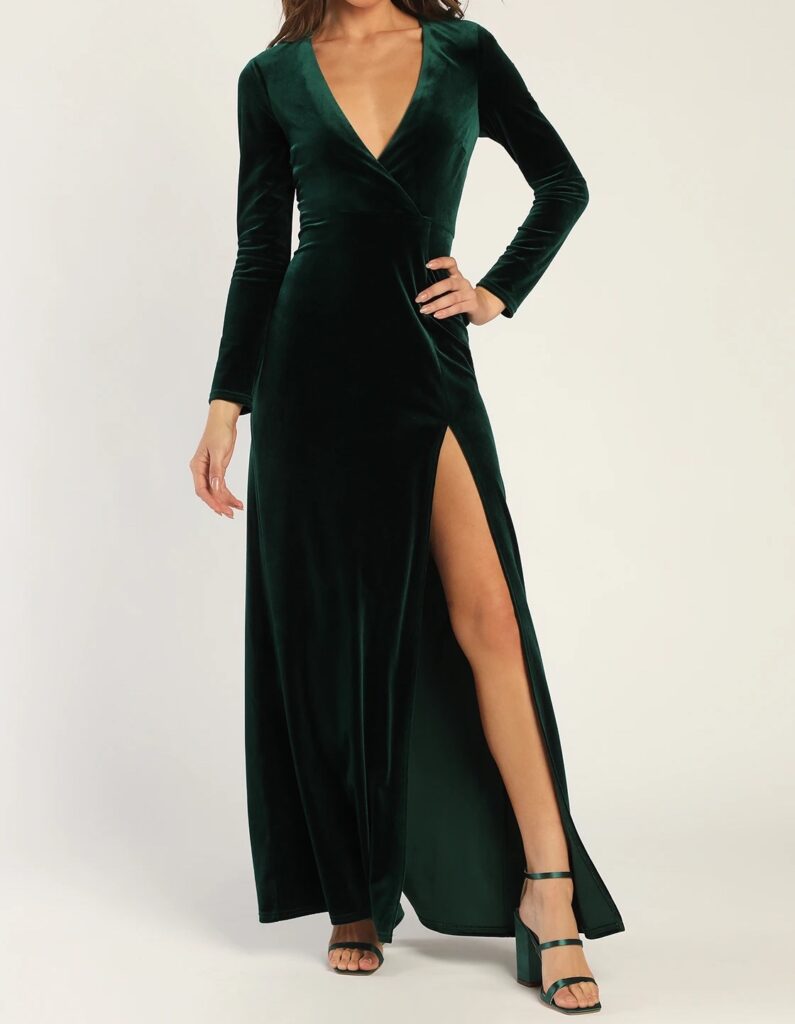 Those of us who were children during the turn of the millennium got to experience the pure magic of velvet come alive again. Now, we can relive some of our most comfortable and fashion-forward looks of that time by diving head first into the jewel-toned velvet revolution. This beautiful, long sleeve option gives us a bit of sass with a slit up the side, without compromising the warmth factor.
Velvet has been an extra trendy look in the bridesmaid department over the last four years, so be sure that the color and material do not match the wedding colors or vibe before making this purchase!