I don't wear a lot of makeup, but I am obsessed with skincare. I am also conscious of the ingredients in the products I use and favor non-toxic ones. So when I came across a Tallowed and Free moisturizer made of beef tallow, I was intrigued. 
What is beef tallow? It's rendered beef fat – fat that has been cooked down into its purest form, becoming shelf-stable in the process. It has the consistency of a thick spread reminiscent of butter. While it can be used for cooking, it has also been also the most underrated moisturizer I've ever used. In fact, I may never buy regular moisturizer again.
The Skin Benefits Of Beef Tallow
"Tallowed and Free was born from my search for cosmetics made with natural ingredients, after I learned how certain chemicals used in most skincare and personal care products, such as formaldehyde and phthalates, can disrupt the endocrine system," shares founder Margie Ramos. "After trying it myself and noticing how it made my skin look more supple and how it reduced the appearance of fine lines under my eyes, I thought to myself, I have to let everyone know about tallow."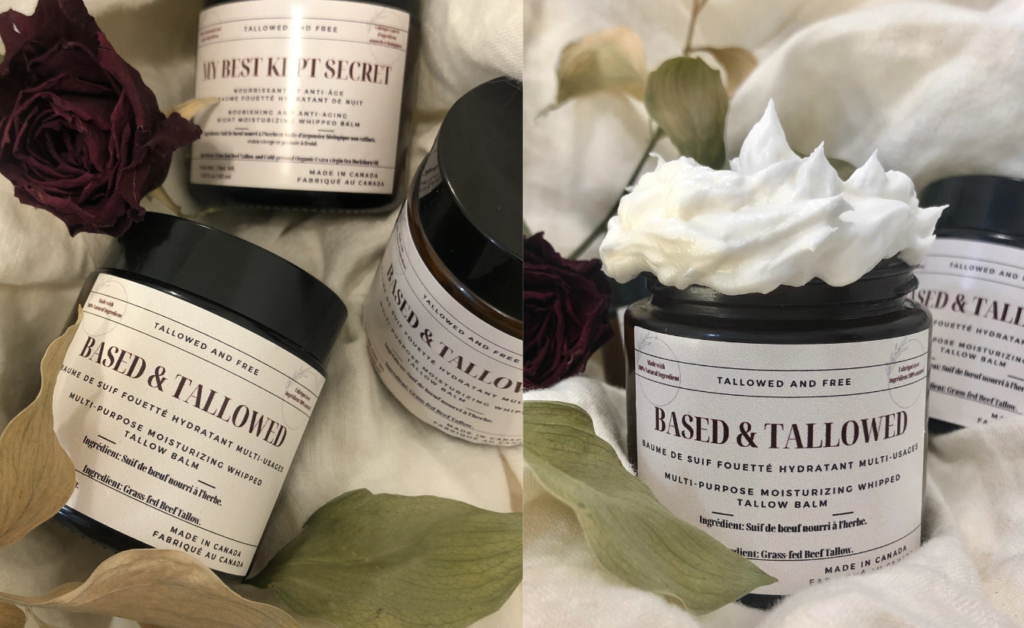 According to her, tallow can also be used to soothe symptoms of eczema, psoriasis, diaper and skin rash, and sunburn. Chapped lips? Just use it as a lip balm. If you're wondering how tallow can work such wonders, it's because it's rich in vitamins A, D, E, and K, which help promote skin health. Not only is it nourishing and moisturizing, but it also contains conjugated linoleic acid (CLA), an omega-5 fatty acid with antioxidant and anti-inflammatory properties that stimulates epidermal regeneration and improves the appearance of sun-damaged skin.
It's fair to feel a bit hesitant about spreading animal fat on your face. But you may be surprised to learn that tallow has a low comedogenic score, meaning that it won't clog your pores. "Since tallow also contains powerful anti-inflammatory and anti-microbial properties, it can help prevent acne and breakouts, so it is good for acne-prone skin," adds Ramos.
My Routine And What I've Noticed So Far
I first tried my new moisturizer before bed, just in case it would make my skin feel oily. I applied the moisturizer after washing my face. A little goes a long way. To my surprise, my skin didn't feel overly greasy. I later found out that it's because tallow has a similar fatty acid profile as our skin, so it's easily absorbed.
I woke up with noticeably more supple, glowy skin. I am happy to report that I haven't had any breakouts since I started using tallow over a month ago. The fine lines that had started popping up on my forehead since entering my thirties seem to be disappearing, and my complexion is dewier and more even. I am now applying beef tallow during the day and under my eyes too.
I also use it as a lip balm, which feels good because I am not swallowing potentially icky ingredients. And I don't need to apply it as often as regular lip balm because it keeps my lips hydrated for a while.
Ramos started Tallowed and Free because she felt that she had to share this skincare secret with the world. I now feel the same and tell everyone about it. The best part? It's cheaper than a lot of fancy products and has simplified my routine.