The clothing rental trend isn't new — Rent The Runway has echoed back to 2009 — but its landscape and reasoning have changed. Enter: Nuuly.
What is Nuuly?
Nuuly is a clothing rental service that significantly emphasizes sustainability and cost-effectiveness, rather than just offering luxury items. They describe themselves as, "a curated destination for anyone who loves fashion and is exploring how to wear, buy and sell it in ways that are gentler on the planet—and their bank accounts."
Founded in 2019 by URBN — the parent company of Urban Outfitters, Anthropologie and Free People — Nuuly continues to do increasingly well for themselves in such a short time, offering two services: Nuuly Rent and Nuuly Thrift (a resell platform similar to Depop or Poshmark.) After recognizing the need for a more sustainable landscape, they've managed to keep people coming back month after month to rent again and again — and buy the clothing pieces they like best.
Chastity Diane, a 27-year-old digital content creator focused on sustainability, was among the first 100 users of the Nuuly rental platform.
"Sustainable fashion is really important to me, but often you don't want to invest in pieces that are more trendy and that you won't get long-term use out of," she shares, "I love that Nuuly allows me to try out tons of trends I maybe wouldn't usually, while still being sustainable and not spending too much money."
What they're doing works — and for good reason. They've tapped directly into what many of the consumers of today actually care about: the planet. 🌏 If you're looking to try it out for yourself, Nuuly makes the process very simple.
How Does It Work?
Simplicity is key. And the brand has that down, too.
For the price of just $88 a month, customers get access to renting six items of clothing from over 100 brands and designers. And all in just three easy steps.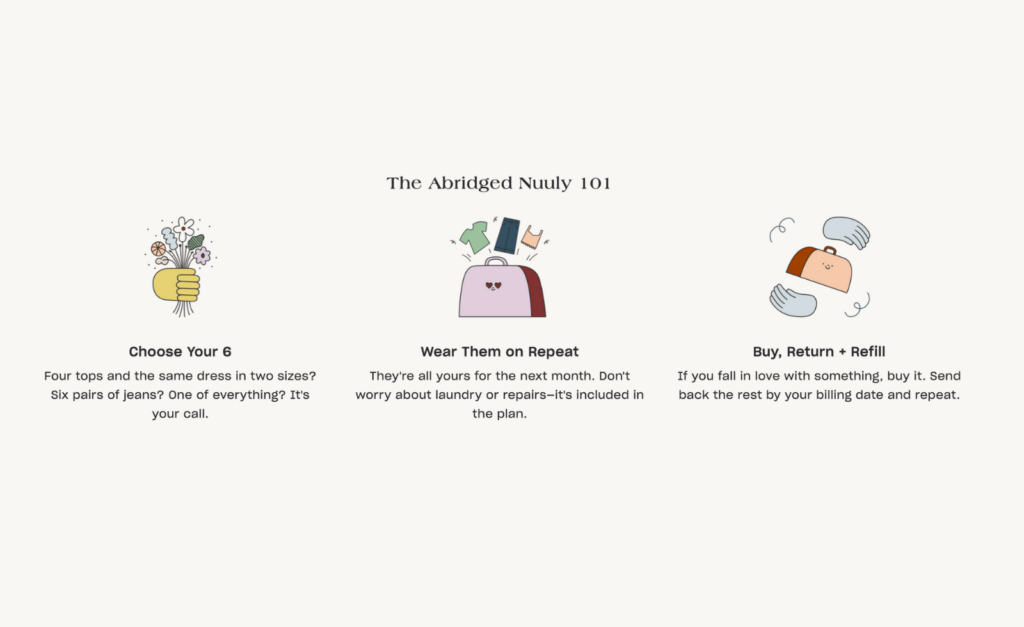 1. Choose six items you love, any items
2. Wear them on repeat for the next month
3. If you fall in love with something, buy it. If not, send everything back by your return date.
They've made it incredibly easy, which in turn, makes purchasing an easy decision. Nuuly members can pause or cancel their membership at any time, there are no late or damage fees and free two-day shipping is included. And best yet: laundry and dry cleaning are included. No need to worry about washing and folding the pieces before sending back what you don't buy.
People Love It (And We Do, Too)
While the saving-the-planet aspect is important, Nuuly has also provided other unexpected perks to its customers. Jamie, a 26-year-old graphic designer, started using the service to help with her body image.
​​"I started using Nuuly because I was looking for a sustainable clothing solution while also trying to heal from body image issues," Jamie shares, "I loved the idea that I could try out a piece of clothing for a month, and then by the end of the month, if my weight had fluctuated, or if I realized I didn't feel confident wearing an item, I didn't have to kick myself for wasting money on a purchase, I just simply send back the rental."
By not having to "commit" to a clothing piece forever, the service has helped have a better relationship with her own body. It keeps her coming back. Not only has she continued to rent every month, but she's purchased four items over the past six months that she wore so much throughout the rental, they would become closet staples.
As with everything, there is room for improvement. "I do wish there was a certain number of days after delivery for you to swap an item if it outright doesn't fit, Jamie explains, "It can be really disappointing when one of your picks isn't true to size and you don't get to wear it at all. Besides that, I have no complaints."
Out of all the things that could go wrong with clothing rentals (and there is a lot) — that's not too bad. And perhaps it's an easy fix. With only four years under their belt, there is certainly tweaks being made continuously to make the service better and better.
The Future of Clothing Consumption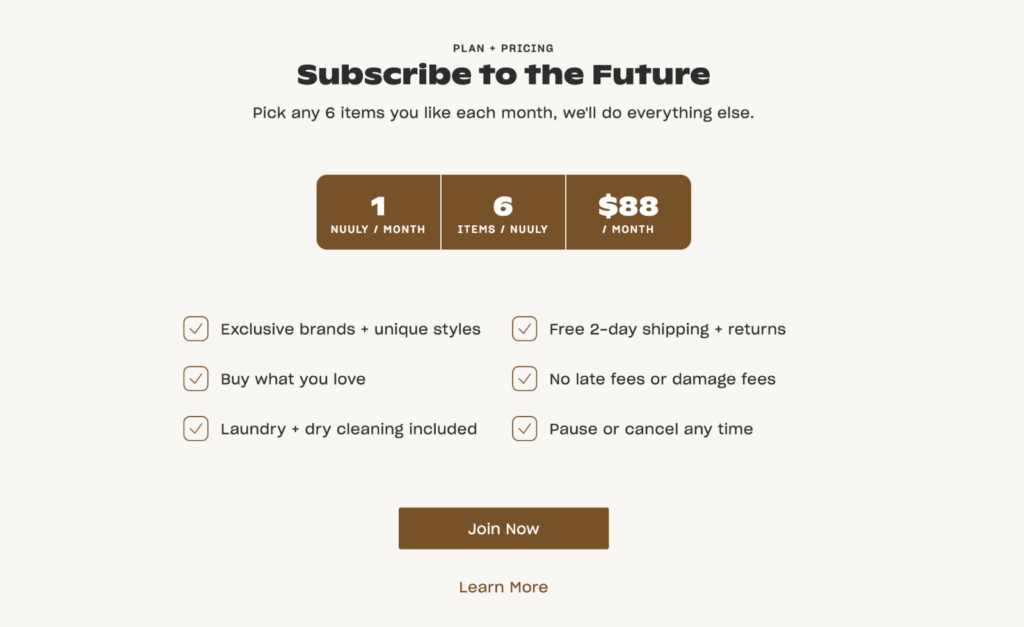 As it says on their website, subscribing to Nuuly is subscribing to the future. And others agree.
"I just truly believe clothing rental is the future, along with thrifting of course." Chastity says, "We have enough clothes in the world, so finding ways to reuse them is essential."
Alright, sign me up.