Did we ever think we would address a Jennifer Lopez romantic comedy as an "adventure rom-com?" The answer is, indeed, no. But after watching her latest – an incredibly ludicrous but equally entertaining wedding comedy set in the Phillippines – it seems like that is the best way to describe this action-packed film. 
While the idea of a JLo rom-com feels frilly and predictable, the only frills you will find in the new Amazon Prime film Shotgun Wedding would be in the layers of her dress. And only after she rips it into shreds to escape and defeat pirates.
Yup. It's kind of like that.
So, what makes this film more entertaining than other new releases? Why should you give it the time of day at all? Here are three reasons to indulge in the ridiculousness that is Shotgun Wedding.
Cheech Marin is a Zaddy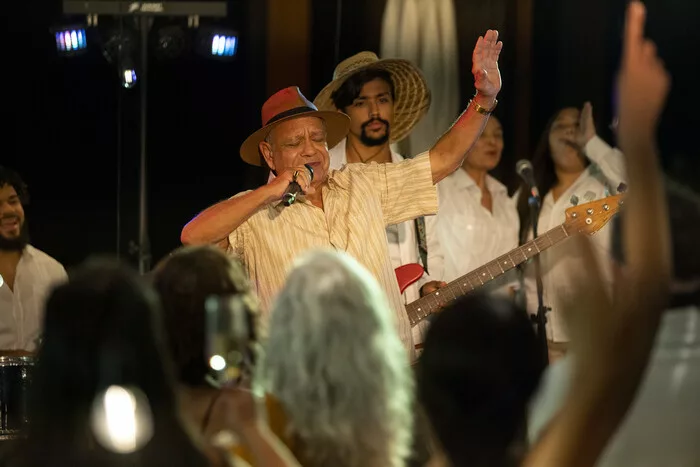 Yup. You read that right. The storied Cheech Marin plays Robert, Darcy's (Lopez) wealthy father. He shows up to her wedding, not only as the lost one true love of her mourning mother Renata (Sōnia Braga) but arm-in-arm with his yoga instructor girlfriend Harriet (D'Arcy Carden), who is decades younger and hiding a few surprises up her sleeves. 
Lenny Kravitz Wears Pearls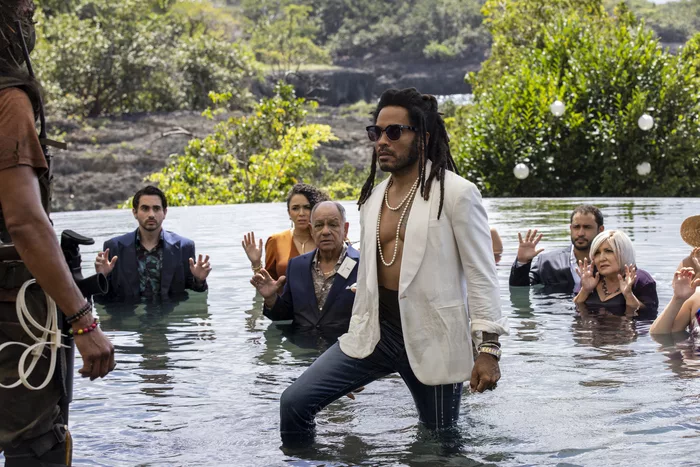 Lenny Kravitz makes his way into the fold as Sean Hawkins, Darcy's sexy, alluring ex who works for her father. The kicker? The man shows up in a helicopter after a pity invite, blindsiding the happy couple having never RSVP'd to the wedding. His presence throws more than a wrench into things, but his endless pearl necklace and unbuttoned shirt at the ceremony almost make up for it.
Jennifer Coolidge is a Badass Moonlighting as an Overbearing Mother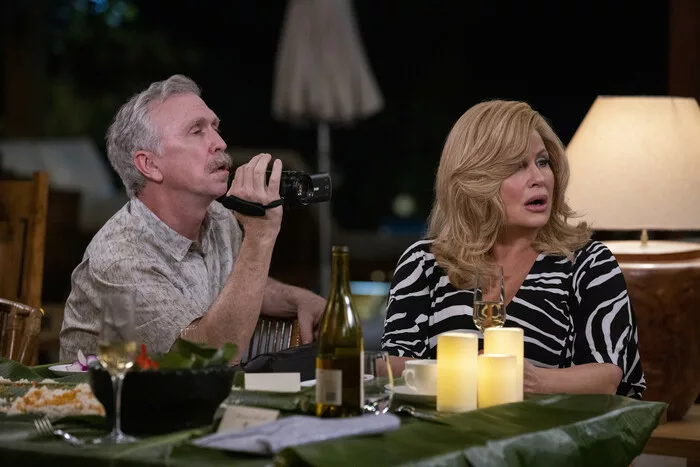 Jennifer Coolidge has been on a magnificent acting streak as of late. It seems as though she appears in everything, and you won't hear us complaining. The woman who made the "bend and snap" a reality now stars as the mother of the groom (Josh Duhamel), whose unappreciated, rusted cake knife gift to the couple may just come in handy when battling pirates on international soil. Her overbearingness is made up for in time, especially when it comes to her surprise ability to handle weaponry.
While we certainly don't want to provide too many spoilers, we can say that this film took a drastically different course than we initially imagined. Plus, the behind-the-scenes experience for this all-star cast seems to have been an extremely fun and memorable time. 
If you're looking for a movie with romance, golf cart crashes, live grenades, giant diamond rings, and maybe an insane yoga instructor or scorned ex, Shotgun Wedding should be your next movie night go-to.