Bratz have always had a passion for fashion — but this time, they're decked out in clothing worthy of Pride. As Pride Month approaches, the Bratz franchise is taking part in the celebration with another version of their Bratz Pride dolls.
Back in 2020, Bratz released queer dolls Nevra and Roxxi — confirming they were girlfriends via Instagram — and this year, they're releasing a new version of the queer, rainbow-wearing couple.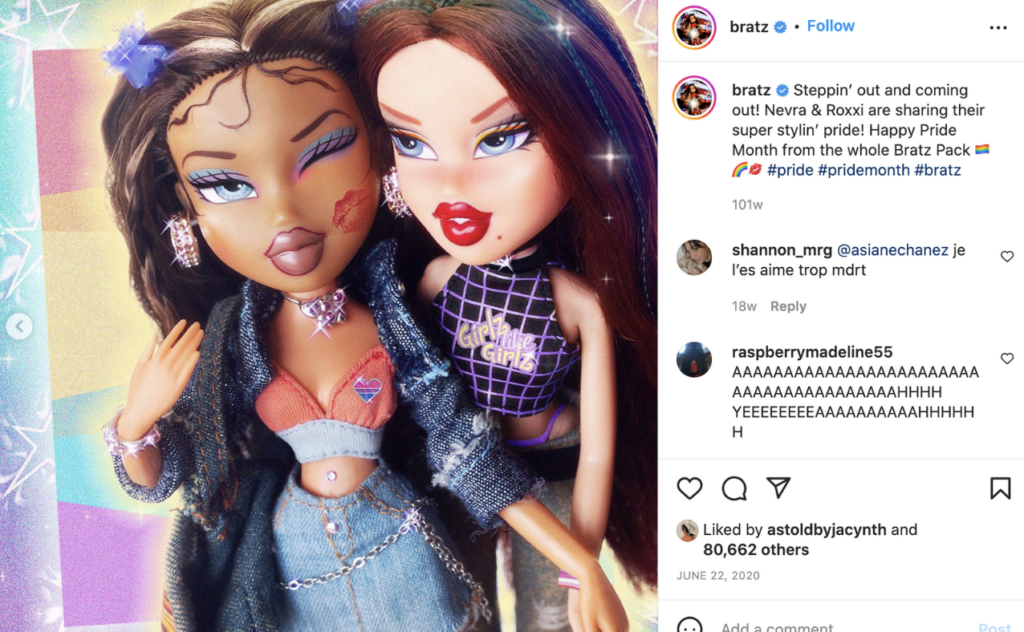 Queer millennials, who grew up with the original Bratz dolls, are nothing short of obsessed.
These Bratz Are Queer AF
The newest edition of Nevra and Roxxi aren't just a same-sex couple. In the release for Pride Month in 2022, they're advocating for queer rights, too.
They're passion for fashion is showing in their rainbow-filled outfits and the signs they hold that read "Queer and unapologetic" and "Ugh I can't even think straight."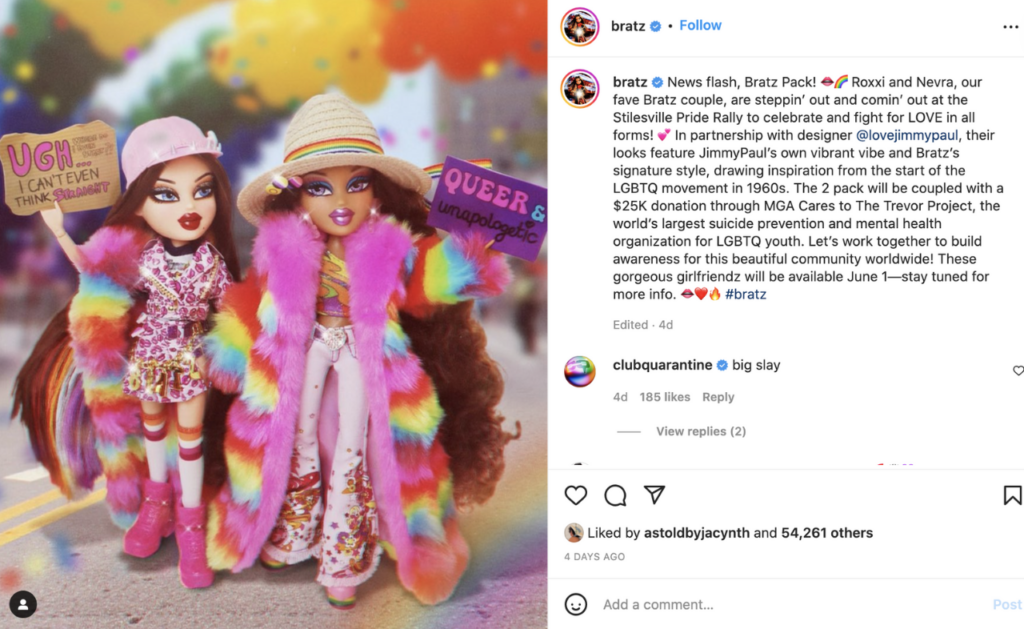 Bratz Pride is Here and Queer Millennials Are Obsessed
Growing up, Millennials weren't often surrounded with Pride collections like kids today. But now, as more and more companies join in on celebrating inclusivity, the kids that once felt alone get to be adults that feel seen.
Our inner child is screaming with joy.
It's Not About Rainbow Capitalism, It's Representation
Although we know that not all companies are participating in Pride for the right reasons — such as only profiting off a marginalized group, but not supporting them throughout the year — it seems that the toymakers are taking an uplifting route.
Along with Bratz new transformation, Barbie also just released their first transgender doll based on Laverne Cox, the transgender actress and advocate who started out in Orange is The New Black.
"What excites me most about her being out in the world is that trans young people can see her and maybe get to purchase her and play with her," Laverne said in an interview with People, "and know that there's a Barbie made by Mattel, for the first time, in the likeness of a trans person."

As the world continues to show up for the rights of the LGBTQ+ community, even in something as seemingly small as a toy, more and more queer folks can feel less alone, valued and loved for who they are. And that is beautiful.