Tennis is having a pop culture moment.
Netflix's Break Point recently introduced audiences to up-and-coming players like Paula Badosa, Casper Ruud, Taylor Fritz, and Maria Sakkari. These pros provide an entertaining behind-the-scenes look at the tennis world tour and look good while doing so.
Meanwhile, King Richard, which tells the story of Venus and Serena's father Richard Williams, is nominated for Best Picture and five other categories at the 2022 Academy Awards.
Beyond the screen, designers have partnered with tennis stars to bring the sport to the runway. The apparel company Miu Miu embraced tennis in its fall-winter 2022 collection, complete with tennis-themed pop-up events in New York and Saint-Tropez. Hermes and Dior also debuted some looks inspired by classic tennis silhouettes.
Naomi Osaka, the highest-paid female athlete in the world, served as the co-host of 2021's Met Gala.
Plus, America's fastest-growing sport right now is pickleball, a cross between tennis, ping pong, and badminton. Players from all over the country team up to compete in pickleball tournaments, which are often played on tennis courts wearing similar outfits. Coupled with the increase in popularity tennis enjoyed during the pandemic, it's clear that this trend has staying power.
As racket sports explode in popularity, tennis-inspired outfits are finding their way off of the court.
Follow the Tennis-core Trend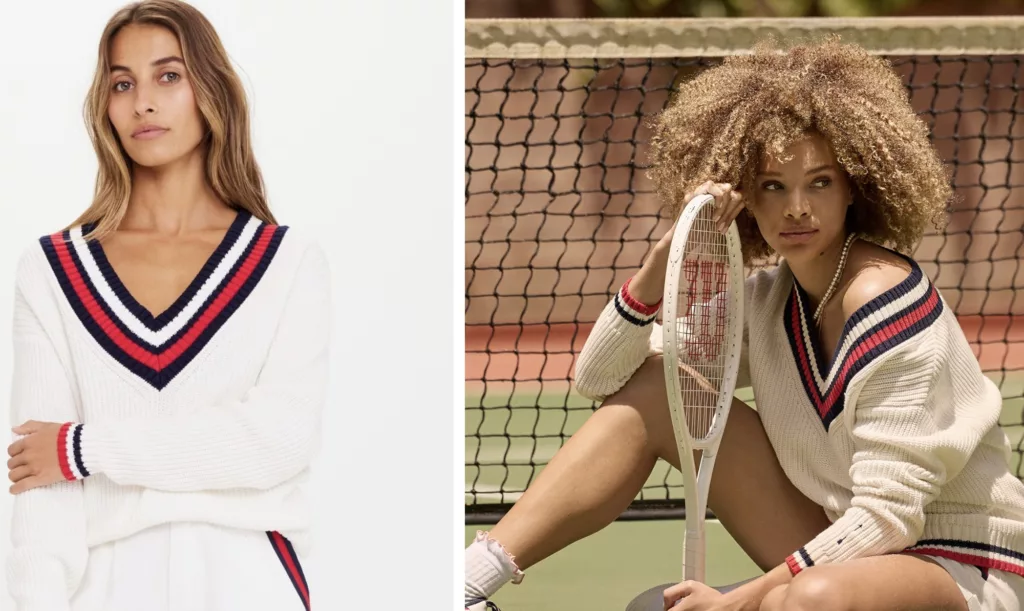 In short: tennis is taking over the fashion world. What does that mean for the everyday consumer? Tennis-core is a more nuanced take on athleisure, inspired by tennis staples like short pleated skirts, fitted dresses, and the iconic skort. Tennis-core fashion comprises clean lines, understated silhouettes, classic accessories, and colors that stand out against a jewel green or court clay background. Whites, creams, yellows, greens, and blacks make up the tennis-core palette.
There are a few places to shop to get in on the tennis-core trend. Girlfriend Collective released its first tennis line, The Racket Collection, full of tennis-inspired styles. The Upside also sells courtside favorites, like this crisp white mini dress with a flared skirt. If you're really into this trend, look at Venus Williams' EleVen's tennis wear, which is excellent for working out and looking good. And, lastly, FP Movement, the activewear line by Free People, has tons of tennis ready looks you can wear anywhere.