Colson Baker. When you first hear that name, it's not likely that you think of a lanky blonde or pink-haired man, covered in tattoos and belting his lungs out to thousands of fans every night in sold-out arenas. You probably aren't envisioning smoke surrounding him – or billowing out of his mouth. But Colson Baker exists in exactly this form at this very moment as Machine Gun Kelly.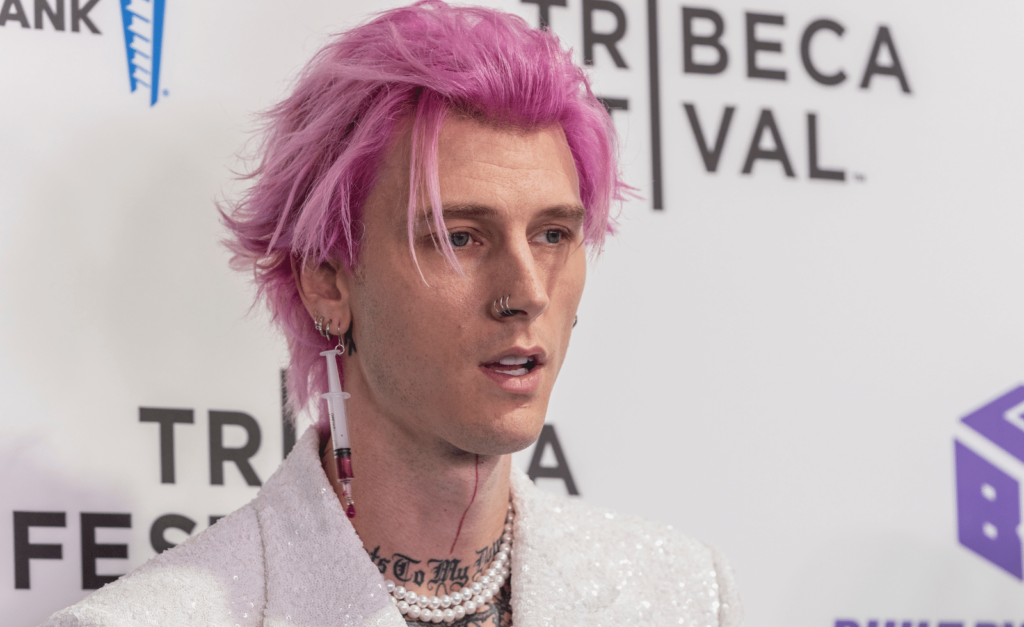 The fashion-forward millennial has made his way to household name territory, though he is polarizing at best. Having engaged in public squabbles several times recently, there aren't many people who haven't chosen to either hate Colson Baker or play his music on repeat.
I may be late to the game, but Colson Baker – aka Machine Gun Kelly or MGK — is exactly the type of personality we need right now.
I'm a converted Machine Gun Kelly fan. Here's why.
1. His Music Pushes the Envelope
I will admit that I am not into heavy rap. However, when rap crosses genres and an amazing hook or rhythm are noticeable, it is like candy to my ears. So when MGK joined forces with Travis Barker to revamp his sound, that's when it finally piqued my interest. The obvious blend of oughts pop-punk flare thrown in with self-deprecating and sharp lyrics, a morbid mindset, and a little bit of rhythm make this new era of MGK a real joy to listen to. 
2. He is a Multi-Hyphenate Film Creative
Like most musicians, MGK really found creative release in music videos over the years. But he is also a pretty fun actor. He has also written and directed a variety of projects over the years. Notice an unamused tattoo artist in King of Staten Island? That's him. Take a look at Downfalls High? He is the narrator of that particular beauty, as a musical drama that features his music. Get a chance to see the new film he wrote, directed, and starred in with his friends, Good Mourning? Chances are, you had a good time. 
These titles are among a list of 129 film and music video products MGK has been credited to.
3. He Has a Diverse Portfolio
Not only did MGK choose to cross over from exclusively rap artist to a genre-bending punk rocker, but he diversified his portfolio in the process.
4. He Started A Genderless Nail Polish Line
The pandemic – though torturous at best – provided a creative time that allowed him to do this at record speed, as well. At the end of 2020, he released three nail polish colors to go along with the release of his fifth studio album Tickets to My Downfall. They were aptly titled Punk Pink, Black Like My Heart, and Paparazzi.
In April of 2021, MGK announced the upcoming arrival of an entire genderless nail polish line in partnership with Unlisted Bran Lab, and on December 2, 2021, UN/DN LAQR was born. His vulnerable interview on The Drew Barrymore Show gave credence to the importance of ritual and expression and served as a hook for many demographics. In all honestly, this is when I started to appreciate MGK. Seeing how he could openly talk about things when he was engaging in creative expression was a refreshing reminder of how art is made.
"Nail polish serves as a true vessel of self-expression," he explained at the time. "I can express myself one way today and do it all again tomorrow with something different. When I do my nails, that's me wearing my own thoughts and making a statement. To me, polish is not just a color, it's an intention. Every color has a purpose."

The brand debuted with 10 colors and 5 top coats at $18 each. MGK had curated 8 different 3-polish sets at $52 each and 3 polish kits for $86 for launch alone, and the collection has expanded since.
5. 27 Club Coffee
Even before UN/DN debuted, MGK was putting his time and attention into another venture, a coffee shop and lounge in his native Cleveland. 27 Club Coffee opened in August of 2020, named for the notorious artists who passed at the tender age of 27. Among them are Jimi Hendrix, Amy Winehouse, Janis Joplin, and Jim Morrison. While some may take the naming credentials to be morbid, I am particularly fond of the way the coffee shop highlights artists and allows people in a variety of industries to create and captivate under its roof.
6. Machine Gun Kelly's Hotel Diablo
Another, admittedly smaller, venture that MGK set out on during this time was the creation and publishing of Machine Gun Kelly's Hotel Diablo. This graphic novel allows its readers to revisit MGK's incredibly successful 2019 release Hotel Diablo. While MGK is known for his doodles–which help to keep his hands busy, much like nail polish and coffee–he was a cowriter with Eliot Rahal and Ryan Cady, while a host of illustrators, print and cover artists contributed as well. 
While this list certainly just scratches the surface of my interest in this artist, it is all rooted in creativity and using his voice to shake mental health stigma. Embracing a second act or change of pace for anyone–including artists–is something we should all be more open to. If you get a chance to watch his new documentary, Life in Pink, you'll get a more holistic glimpse into who he is as a person and how his career developed.
Like me, you'll probably have a newfound respect for MGK.